A Fake Interview with Real* Quotes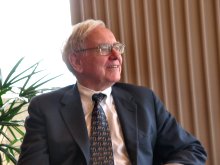 Credit: Mark Hirschey
Martial Development: First of all, congratulations: a recent surge in Berkshire Hathaway's stock price has made you the richest man in the world. $62 billion dollars, I hear. According to my estimates, you could literally buy up all the tea in China.
Warren Buffett: I drink Coca-Cola.
Martial Development: Fair enough. You know, kung fu is all about profitably investing time and effort. As one of the world's greatest investors, I thought you might have some unique insights to share with us.
Warren Buffett: I've never even made a hostile acquisition! What do I know about kung fu?
Martial Development: More than you realize. Continue reading Warren Buffett on MMA Training and Self-Defense