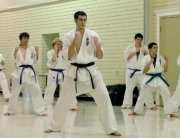 So you visited the local Karate dojo. You enjoyed the free introductory class, and you're ready to enroll. One minor detail stands between you and black belt prowess: The Contract.
Curb Your Enthusiasm
The Contract is an irrevocable commitment to a full year of Karate instruction. Should you decide to quit training for any reason—injury, lack of interest, work and family obligations, et cetera—you will nevertheless be obligated to continue paying tuition until The Contract has expired. If you fail to honor this commitment, your delinquent account will be sent to a collection agency.
The Contract allows your dojo to relocate itself ten miles away from its original location, replace its best instructors with bad ones, or shift class dates and times such that you cannot attend. Even if all these should come to pass, you will be required to submit your monthly payments until the term of The Contract is completed.
This describes a worst-case, yet surprisingly common scenario.
Some people, such as Shotokan expert Rob Redmond, advise against signing any Karate contracts whatsoever. Yes, these contracts serve to indemnify the school against its own mismanagement, at the student's expense. Nevertheless, before rejecting it outright, I suggest you consider whether you have accepted this type of arrangement before, why you were willing to do so then, and why you hesitate now.
There aren't many colleges or universities that accept tuition payments on a month-to-month basis. What do you think?