Are you feeling run down? Suffering from tired blood? Do encounters with foreign cultures leave you confused and angry?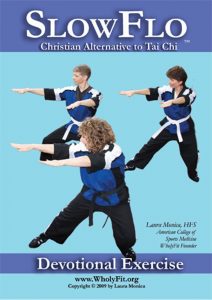 If so, then we have a solution for you. It's called SlowFlo, the Christian alternative to Tai Chi.
Inspired by Chuck Norris, the art of SlowFlo reforms the inscrutable pagan art of Tai Chi Chuan into a safe and guilt-free form of Christian exercise.
The benefits of SlowFlo include limbering of the joints and spinal column, and oxygenation of your whole body, all without challenging your religious and philosophical beliefs.
While all other forms of martial arts were created under demonic influence, SlowFlo strengthens and fortifies your body and soul with the real ultimate power of Jesus.
You will burn calories in a gentle, relaxing way, while performing simple techniques with reassuring names, like "The Iron Pope", "Lifting the White Man's Burden", and "The Chris Farley".
SlowFlo raises your metabolism for quicker weight loss and more energy–not the evil ki energy of brown and yellow devils, but wholesome Christian energy.
The beautiful movements of Slow Flo are accompanied by scriptural affirmations in All-American Sign Language. Say goodbye to the occult influence of Oriental mantras, mudras, and meditation, and welcome the healing power of SlowFlo exclusively into your heart.
In Christ all things are possible, except for Oriental Yoga and martial arts: those are the work of the devil. If you accept Jesus as your master, buy SlowFlo on DVD today.
All kidding aside, the serious question is: what is it about Tai Chi that requires a "Christian alternative"?