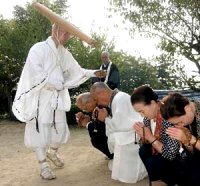 For more than seven years, Genshin Fujinami dressed in white from head to toe while covering the backwoods trails of Mount Hiei in one of the world's most grueling feats–a punishing quest that combined starvation, isolation and the equivalent of a lap around the equator.

For 1,000 days, rising well before dawn, Fujinami embarked alone, rain or shine, on his journey, running or briskly walking more than 50 miles–that's almost two marathons–each day as the trial neared its climax. Along with his white robes, his only gear was a pair of straw sandals, a long straw hat, candles, a shovel, a length of rope and a short sword.

The rope and sword weren't for survival. If for some reason he could not complete his daily trek, he was to use them to kill himself.