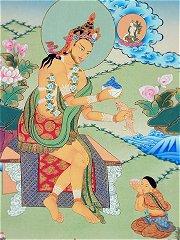 Mi-mno, mi-bsam, mi-dpyad-ching,
Mi-bsgom, msmi-sems,
rang-bas-bzhag.
In English…

No thought, no reflection, no analysis,
No cultivation, no intention,
Let it settle itself.*
These six words of instruction are attributed to Tilopa, a 9th century Buddhist master of tummo, tantra, Tibetan dream yoga, resurrection and other siddhi.
* As translated by Alan Watts.