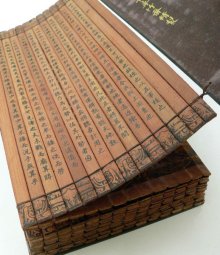 Credit:
bluefootedbooby
The same strategies used by a military commander to defend the nation can also be used to protect one's self. Sun Tzu's classic manual The Art of War is therefore required reading for all serious martial artists.
Here is a summary of Sun Tzu's most important points (based on translations by Roger Ames):
On Assessments (計篇第一)
Warfare is the art of deceit. Therefore, when able, seem to be unable; when ready, seem unready; when nearby, seem far away; and when far away, seem near. If the enemy seeks some advantage, entice him with it. If he is in disorder, attack him and take him.
Attack where he is not prepared; go by way of places where it would never occur to him you should go. These are the military strategist's calculations for victory—they cannot be settled in advance.
On Waging Battle (作戰篇第二)
I have heard of a foolish haste, but I have yet to see a case of cleverly dragging on the hostilities. There has never been a state that has benefited from an extended war…prize the quick victory, not the protracted engagement.
Planning the Attack (謀攻篇第三)
It is best to keep one's own state intact; to crush the enemy's state is only second best…So to win a hundred victories in a hundred battles is not the highest excellence; the highest excellence is to subdue the enemy's army without fighting at all.
Therefore, the expert in using the military subdues the enemy's forces without going to battle, takes the enemy's walled cities without launching an attack, and crushes the enemy's state without a protracted war. He must use the principle of keeping himself intact to compete in the world.
He who knows the enemy and himself
Will never in a hundred battles be at risk;
He who does not know the enemy but knows himself
Will sometimes win and sometimes lose;
He who knows neither the enemy nor himself
Will be at risk in every battle.
Strategic Positions (形篇第四)
Of old the expert in battle would first make himself invincible and then wait for his enemy to expose his vulnerability. Invincibility depends on oneself; vulnerability lies with the enemy.
He whom the ancients called an expert in battle gained victory where victory was easily gained. Thus the battle of an expert is never an exceptional victory, nor does it win him reputation for wisdom or credit for courage. His victories in battle are unerring. Unerring means that he acts where victory is certain, and conquers an enemy that has already lost.
The victorious army only enters battle after first having won the victory, while the defeated army only seeks victory after having first entered the fray.
Strategic Advantage (勢篇第五)
The expert in getting the enemy to make his move shows himself, and the enemy is certain to follow. He baits the enemy, and the enemy is certain to take it. In so doing, he moves the enemy, and lies in wait for him with his full force.
The expert in battle seeks his victory from strategic advantage and does not demand it from his men.
Weak and Strong Points (虛實篇第六)
If the enemy makes preparations by reinforcing his numbers at the front, his rear is weakened; if he makes preparations at the rear, his front is weakened…to be prepared everywhere is to be weak everywhere.
One is weak because he makes preparations against others; he has strength because he makes others prepare against him.
The ultimate skill in taking up a strategic position is to have no form or position…of the five phases (wu hsing), none is a constant victor.
Armed Contest (軍爭篇第七)
Making the enemy's road long and torturous, lure him along it by baiting him with easy gains. Set out after he does, yet arrive before him.
Use your proper order to await the enemy's disorder; use your calmness to await his clamor. This is the way to manage the heart-and-mind.
Adapting to Contingencies (九變篇第八)
There are five traits that are dangerous in a commander: If he has a reckless disregard for life, he can be killed; if he is determined to live at all costs, he can be captured; if he has a volatile temper, he can be provoked; if he is a man of uncompromising honor, he is open to insult; if is loves his people, he can be easily troubled and upset. These five traits…can prove disastrous in the conduct of war.
The Nine Kinds of Terrain (九地篇第十一)
The commanders of old said to be expert at the use of the military were able to ensure that with the enemy:
His vanguard and rearguard could not relieve each other,
The main body of his army and its special detachments could not support each other,
Officers and men could not come to each other's aid,
And superiors and subordinates could not maintain their lines of communication.
The enemy forces when scattered could not regroup,
And when their army assembled, it could not form ranks.
Incendiary Attack (火攻篇第十二)
A ruler cannot mobilize his armies in a rage; a commander cannot incite a battle in the heat of the moment. Move if it is to your advantage; bide your time if it is not. The enraged and passionate can be restored to good humor, but the dead cannot be brought back to life.