Few of us can match Miyamoto Musashi's single-minded devotion to the pursuit of excellence in martial arts.
In fighting over sixty duels, many to the death, Musashi demonstrated great courage. And in winning every one, he showed superior skill and technique. Musashi attributed his outstanding swordsmanship to unrelenting practice of self-reliance and self-discipline.
In his final years, Musashi retired to a cave for a life of quiet contemplation. It was during this time that he composed his famous guide on strategy, The Book of Five Rings.
In his very last days, this Kensei (Saint of Swords) further distilled his insights on self-discipline and personal development into 21 points. Musashi bequeathed this lesser-known work, Dokkodo, to his senior student before passing away.
Dokkodo (The Way to be Followed Alone)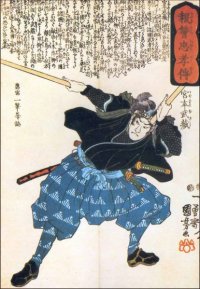 Do not stubbornly rebel against the ways of the world.
Do not seek pleasure for its own sake.
Do not rely upon any half-hearted feelings.
Think lightly of yourself and think deeply of the world.
Remain detached from desire.
Do not regret what you have done.
Never be jealous of others.
Never let yourself be saddened by a separation.
Abandon resentment and complaint.
Do not let yourself be guided by the feeling of love.
Disregard your personal preferences.
Accept your dwelling and living conditions.
Do not pursue the taste of good food.
Do not hoard ancient treasures intended for future generations.
Do not mindlessly follow the ways of the world.
Do not become obsessed with weapons or fighting.
Do not run from death.
Do not accumulate goods and riches for your old age.
Respect the gods, without relying on their help.
You can abandon your own body, but never let go of your honor.
Never depart from the way of strategy.
Which of these guidelines are you able and willing to follow?