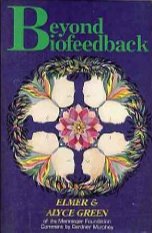 Excerpted from Beyond Biofeedback, a record of Elmer and Alyce Green's research on theta brainwave training, which they describe as an accelerated form of meditation.
When Jack Schwarz was in his early teens, he saw a stage hypnotist enter a self-induced trance and then push pins into his arm while he talked about the power of mind to control pain and bleeding. Jack had the normal response to pain until he saw that demonstration, and then, for no particular reason, he knew that he would be able to do the same thing. He got some pins and tried it, and sure enough he could turn pain off. What a conversation piece, he thought.
Jack said that at first he never tired of amazing his friends. He developed a cocky attitude, in spite of the fact that he had not had to develop his skills, but "woke up one morning and found all the diplomas were on the wall." He could stop pain, stop bleeding, influence people through hypnosis, remove pains in other people by putting his hands on them and thinking about the pain going away, and could often "guess" other people's thoughts precisely.
We did not make a focused effort to interrogate Jack when we began the laboratory work. As with Swami Rama, we asked him to tell us what he would like to demonstrate. Dale and Alyce wired him in the same way we prepared college-student subjects in other research. When he sat down in the experimental room he produced an envelope with two 6-inch steel sailmaker's needles.