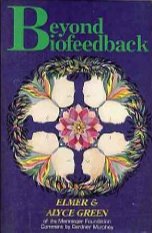 Excerpted from Beyond Biofeedback, a record of Elmer and Alyce Green's research on theta brainwave training, which they describe as an accelerated form of meditation.
When Jack Schwarz was in his early teens, he saw a stage hypnotist enter a self-induced trance and then push pins into his arm while he talked about the power of mind to control pain and bleeding. Jack had the normal response to pain until he saw that demonstration, and then, for no particular reason, he knew that he would be able to do the same thing. He got some pins and tried it, and sure enough he could turn pain off. What a conversation piece, he thought.
Jack said that at first he never tired of amazing his friends. He developed a cocky attitude, in spite of the fact that he had not had to develop his skills, but "woke up one morning and found all the diplomas were on the wall." He could stop pain, stop bleeding, influence people through hypnosis, remove pains in other people by putting his hands on them and thinking about the pain going away, and could often "guess" other people's thoughts precisely.
We did not make a focused effort to interrogate Jack when we began the laboratory work. As with Swami Rama, we asked him to tell us what he would like to demonstrate. Dale and Alyce wired him in the same way we prepared college-student subjects in other research. When he sat down in the experimental room he produced an envelope with two 6-inch steel sailmaker's needles. He said he would push the needles through his biceps and demonstrate bleeding control.
Jack was wired to record the behavior or a number of physiological variables that gave indications of stress reactions: heart rate, breathing rate, galvanic skin response, skin temperature, and brain waves. While we were adjusting the equipment near him, one of the needles rolled off the board on which his hands were placed and fell to the floor. As I picked it up I realized that we had not sterilized the needles, and I asked if he wanted me to do anything about it. He said, "No, I often sterilize my needle by putting it on the floor and rolling it under my shoe."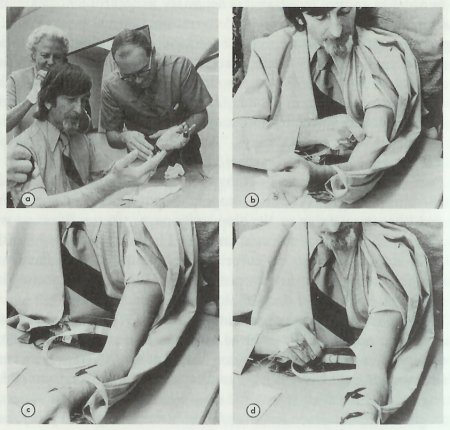 Before Jack began pulling the needle out of his arm, I decided that it would be useful for the record if it were demonstrated that Jack could bleed in a normal way. It had occurred to me that otherwise, even if Jack repeated this demonstration a hundred times, we really would not know whether he had control of bleeding, or merely a peculiar skin condition.
In order to control bleeding, it is necessary to control a normally unconscious process. All yogis who demonstrate unusual powers of self-regulation apparently have achieved a kind of coordination between conscious and unconscious. In effect, I decided to interfere with that coordination. Just as Jack was preparing to pull the needle out of his arm, I interrupted him and said, "Jack, tell me, is it going to bleed now?" He looked quite surprised and uncertain, like a man balancing on one finger when someone said, "Are you going to fall now?"
Jack said, "I don't think it's going to bleed." But when he pulled the needle out, it bled freely. The photographer put down his camera, and he and I began mopping up the blood with paper tissues. Bleeding was continuous for about ten seconds, and then I heard Jack say very softly, "Now it stops." Much to my surprise, the hold in the skin that I was dabbing closed up as if drawn by purse strings. It took about one second to close, and not another drop of blood appeared.
We were very much impressed, and I said to Jack, "I am glad to see that you are normal and can bleed, and can also stop bleeding. How about doing it again, but this time don't bleed at all." There was a pause. Many seconds went by, and I began to wonder if I had said something wrong, when Jack said, "Okay, I'll do it again." He pushed the needle through a different place in his arm, and allowed it to remain buried in the muscle for a half minute or so. Though I squeezed his arm, no blood came out when the needle was removed.
When the test was concluded we talked for awhile, and I asked Jack why he had paused so long before he agreed to do the second demonstration. He said he wanted me to understand that he did not force his body to do any of these things. He asked it to. He had to ask his subconscious and want for an answer. When it said "Yes" to him, he said "Okay" to me.
Faith, Hypothesis and Transcendental Knowledge
Attitude is a critical feature in biofeedback training, because volition is influenced by what one believes (although the psycho-physiological principle itself is entirely independent of what people do or do not believe). This fact was first brought to our attention by John Seaman Garns, who phrased it, "Mind operates under its own conception of itself."
The average person was in a bind until the advent of biofeedback training. Consider some examples. One woman, who with the help of a biofeedback machine was learning to warm her hands, asked, "Do you have to have faith to operate this machine?" Our answer was that to begin with faith was totally unnecessary, because the machine is a faith enhancer. No more faith is required to learn to operate it than to learn to drive a car. We do not have to believe or have faith that the car will turn to the left if we turn the steering wheel to the left. All that is necessary is to try it. Then we know.
There seems to be a hierarchy of effectiveness of psychological states with respect to self-regulation of physiological processes. The hierarchy might be arranged as follows: to hope, to hypothesize, to believe, to know—and biofeedback makes it possible to leap the entire distance at once.