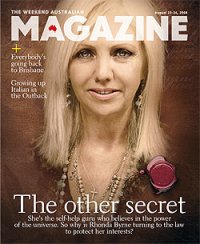 The full story of how Rhonda Byrne turned a positive thinking realization into "the greatest success story in the annals of viral marketing"-–to quote The American Spectator-–is only now emerging in court papers filed in the US and Australia, and from interviews with the participants. To Byrne, it's the story of a small group of people bringing "joy to the world"; to some of those involved it's a story of hypocrisy and ruthless double-dealing.
Like many of her public utterances, the message that Australia's platinum-haired self-help guru Rhonda Byrne sent out last November to her millions of followers was a rhapsodic outpouring of goodwill. Thanksgiving Day was approaching in the United States, where Byrne now lives in a Californian celebrity enclave just up the road from Oprah Winfrey's 17-hectare, neo-Georgian estate, and the creator of the New-Age blockbuster The Secret wanted to remind the world about the crucial importance of gratitude.
"Remember," Byrne wrote, "if you are criticising, you are not being grateful. If you are blaming, you are not being grateful. If you are complaining, you are not being grateful."
Those are worthy sentiments, but it was an odd time for Byrne to be expressing them because her lawyers had just sued two of the very people who were instrumental in launching her book and film The Secret to phenomenal success.