內功 neigong (pronounced nay-gung): the science of observing, strengthening and directing bio-energy, or chi.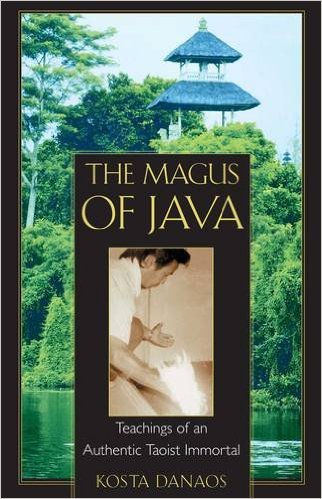 A repository of extraordinary skills such as telekinesis, pyrogenesis, telepathy, remote viewing and levitation, the esoteric Eastern school known as Mo-Pai has been described as a real-life order of Jedi Knights. Some have even speculated that its history inspired George Lucas' script for Attack of the Clones.
Among the ancient neigong lineages still in existence today, the Mo-Pai is characterized by an unusual openness. The school and its headmaster, known by the alias "John Chang", has been the subject of two recent books and a video documentary.
Jim McMillan, who identifies himself as a longtime disciple of John Chang, has graciously agreed to share a few of his experiences with Martial Development readers:
How did you first become acquainted with the esoteric practice of neigong?
My long-standing relationship with martial arts had become a dead-end journey. I recognized that the mentality of most practitioners, systems and schools is very self-centered: practitioners believe only "their" style is completely capable, and that any student can reach the level of past masters.
That is why I took my training in another direction around 1988, give or take a year. After taking a seminar from a Brazilian Jujitsu guy (can't remember his name), I realized that I had wasted years of my time training in Taekwondo and Hapkido. I was easily defeated. It was a wake up call.
After taking some more classes, I tried combining BJJ with my previous styles, but this didn't make me feel any better. I was getting too old, bored of the practice and physically tired. I realized it was also time to move over, for younger men to take over my martial arts school.
One evening, I was watching TV and saw a documentary called "Ring of Fire". I heard a call deep within my soul. It was an inner compulsion that I had never felt before. I knew instantaneously that I had to find this man, who could perform these strange things.
After two years of researching, I finally decided to just go. A week and a half later, I found my teacher in a city of three million on the other side of the world.
It is often said that a traditional master will test an aspirant's character and resolve, before deciding whether to accept them as a disciple. Did you face any such trials, or were you accepted immediately?
I wish the custom you speak of were true. However, thrill of being accepted by Pak (master) John Chang made up for any apparent absence of traditional testing.
Upon my arrival, it took me all of two weeks to locate John. I could only meet with him for a few minutes before I had to return to the airport, and catch my return flight home! Due to the rush, we had little time for formalities. I found that Pak John was modern in many respects, and very traditional in few others.
I didn't know what to expect from a culture I was totally unaccustomed with. At our first meeting, Pak John was grabbed my arm unexpectedly and told me to flex it, to see if I had enough strength for the training. After that he said, "I'll accept you." And that was that.
In the beginning and according to Asian custom, I was prepared to sit in front of the master's house, and patiently for him to answer my questions. But I didn't have to, thank God!
What preconceived notions about qigong/neigong masters or methods, if any, has your personal experience since proven incorrect?
My neigong training has brought fulfillment in ways I never anticipated, and I now see life in a totally different way.
In the Mo Pai, there is a vital link between the present and the past. I refer to my teacher's current relationship with his own (long dead) master, who visits at Pak John's request during the Chinese New Year.
They speak on matters that I am not privy to, as I am not conversant in Indonesian, nor am I at the level where I can hear the spirit directly. However, the master's spirit demonstrates visually that he does exist and is present at these meetings.
To be honest I was willing to do whatever it took (except for one thing) to become a student, and attain certain abilities that I had personally seen. While on my journey, I have found a new sense of profound awareness about my relationship with my creator, God. I did not expect such a thing would happen.
What sacrifices–time, effort, money, et cetera–are required of a student in the Mo Pai? How do these demands compare to your previous experience in various martial arts schools?
Actually, the sacrifices come naturally, as they would in pursuit of any other sincere interest we have. But yes, there are sacrifices, and I have made some that were life changing.
I am frequently asked about the sex issue ("conserving jing"). While my normal male hunger remains fully charged, my deep desire has become less focused on sex, and on future goals. I was glad to discover I could actually exert control over my natural instincts! I found that I didn't have to be a slave to my instincts, which really made me feel better about myself.
Initially, I tried to stay single, and did so for over ten years. However, this took a toll on me, in the form of loneliness and depression. Later, I married.
Building up the dantian isn't what most people think. You are not guaranteed great health.
My wife and son have tolerated the time spent on trips and in training. I try to practice when they are in bed, in the early morning or late evening; this way I have avoided too much trouble.
Money wasn't a big issue for me initially, since I remained single for so long. Now that I am married, money is more of an issue. Prior to marriage I usually spent a little over three thousand dollars yearly to visit my teacher. However, the cost has sharply risen since I last visited.
How has this training affected your physical and emotional health? Has it made your life easier, or harder?
My health actually improved since I started in neigong. The deep breathing in our first level of training is actually very beneficial, as many of you already know. However, being that we all are very different, the effects/results will show differently in each of us.
I actually overcame a very severe back problem, and became so healthy that I went many years without missing a single day of work.
I also attribute my improved heath to maturity. You come to recognize a larger picture in life than what you had before. During the earlier period of my martial arts training, I always seemed to have some kind of ailment I had to heal or deal with, but I found in the later years that my meditation helped not only my physical condition, but my sparring as well. Still, this wasn't enough to convince me to continue with martial arts.
My neigong training has brought fulfillment in ways I never anticipated, and I now see life in a totally different way. It caused me to understand my relationship with my Lord God as never before. It was like I was somehow infused with knowing him—without intentionally seeking this knowledge. This had a great impact upon my emotional state, and helped me through my prior depressive condition I had been struggling with.
Meditation is a very healthy thing to do, both physically and mentally. Your eyes are opened to aspects you wouldn't ordinarily see.
Building up the dantian isn't what most people think. You are not guaranteed great health. In fact, a few Western students became ill from training incorrectly. Although I don't have concrete evidence, my observations suggest that if one has greed, power or any other negative desire in his heart, they will have health problems.
Many readers are interested in learning more about neikung, but don't know where to start. Do you have any advice to offer?
Concerning admittance into the Mo Pai, I must always discuss every proposal with my teacher. Not everyone can be admitted. Nevertheless, anyone can contact me, and I will try to reply to everyone.