Taiji master Yang Cheng-Fu said that, without lifting your Bai Hui point, even 30 years of practice would be a waste of time. Why is this particular point so important to martial artists, and to everyone else?
The Bai Hui point, which sits on the crown of the head, is known by many different names. In acupuncture, it is identified as Du Mai 20 (百会), the point where the body's Yang energy naturally converges. In kundalini, tantra and other Indian yogas, this point is named the Sahasrara (crown) chakra. In many esoteric traditions, Bai Hui is regarded as the gate between Man and Heaven.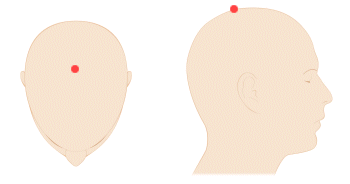 Bai Hui is not in the middle of the head, but near the twirl of the hair.
If your Taiji practice is in line with the instructions of the old masters, then you are probably already familiar with the benefits of lifting the Bai Hui point. If, on the other hand, you do not currently practice Taiji, zhan zhuang or any other meditative discipline, here is a sampling of the benefits you can expect—benefits which exceed mere self-defense.
1. Lifting the Bai Hui automatically tucks your chin. Because the Bai Hui is located towards the back of the head (relative to most people's normal posture), lifting it requires a slight forward rotation. This rotation brings the chin down and inwards.
Tucking in your chin reduces your exposure to a knockout punch. Boxers recognize the chin as a lever, and will strike that lever to indirectly attack your brain. Tucking your chin will also help protect your neck. As the old masters said:
Conceal your throat and challenge all the heroes in the world.
2. Lifting the Bai Hui straightens your spine. The modern sedentary lifestyle causes a pathologically curved spine, which manifests as stiffness, lower back pain, headaches, indigestion and other health problems.
By raising the crown of your head, you can decompress your spinal vertebrae, strengthening your back, and improving your posture and health. Furthermore, this straightened spine will improve your balance (zhong ding), agility, and martial skills.
3. Lifting the Bai Hui improves circulation in the brain. Eastern and Western medical science both recognize the critical necessity of this flow; when it is obstructed for mere minutes, the result is permanent brain damage. Stroke, or "brain attack," is currently the third leading cause of death in Western nations.
Martial artists have known for centuries that, where intention goes, chi and blood follow. When strong intention goes to the hands, they become swollen and hot; when it goes to the Bai Hui, alertness and creativity are increased.
Try it Yourself
Without personal experience, you may find this last point difficult to believe. Here is a quick, safe, and simple experiment you can try yourself:
Stand up straight, close your eyes, and relax. You do not need to assume any exotic kung fu posture; just leave your arms down at your sides. Do not proceed to the next step until you feel relaxed.
Raise the Bai Hui point. Place your intention at the point, and throughout your entire body. Stand still for three minutes.
Change to a slouching position: spine curved, chin out. Keep your attention on your entire body. Stand still for three minutes more.
Return to the previous posture, with the Bai Hui lifted. Again, stand for three minutes, and observe the different physical and emotional sensations resulting from this change in posture.
Open your eyes, and move around for a few minutes.
Try this experiment and share your results with us.