The classification of Chinese martial arts into two families—internal and external—is generally accepted without question. Despite its popularity, the precise definition and significance of these families is not universally agreed upon.
What is the origin of the internal/external categorization? And what should it mean to you as a martial artist?
History of the Internal/External Model
Usage of the term neijia with respect to martial arts can be traced back as far as the 17th century. Huang Zongxi, a scholar, philosopher and activist (but not a noted martial artist) attributed the origin of internal martial arts to the Taoist immortal Zhang Sanfeng. Huang explained that the internal martial arts were transmitted to Zhang from the God of War, while Zhang was asleep. (Other contemporary writings suggested that Zhang Sanfeng lived over 200 years and possessed supernatural powers, including the ability to fly.) Huang contrasted Zhang's esoteric arts with the more common pugilism of the Shaolin Temple.
Did Huang Zongxi have access to the detailed training regimens of the Shaolin and Wudang schools? In 17th century China, martial art was a valuable and practical skill, and such information would not be available to the public. It is more likely Huang intended neijia as a reference to indigenous Chinese Taoism, in contrast to the waijia (external school) of Chan Buddhism imported from India and practiced at the Shaolin Temple.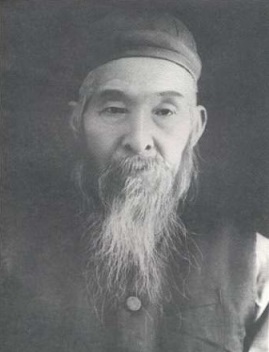 Sun Lutang
Founder of Sun style Taiji
In 1894, masters Cheng Tinghua, Liu Dekuan, Li Cunyi and Liu Weixiang formed a teaching organization for the benefit of their students and the martial arts community. These particular masters were fluent in the arts of Taijiquan, Baguazhang, and Xingyiquan, and their association was variously described as Neijiaquan (internal family boxing), Neigongquan (internal skill boxing), and Wudangquan (Wu Tang boxing).
This concept of internal martial arts was later endorsed by the Taiji expert Sun Lutang, and mentioned in his famous book The Study of Xingyi Boxing.
Modern Definitions of Internal Martial Arts
The modern meaning of the term "internal martial arts" is hopelessly confused. It seems that every instructor of Chinese martial arts has their own definition of internal and external gongfu. Adam Hsu lists some of the popular definitions in his essay collection, The Sword Polisher's Record:
Hard or fast movements are external; soft and slower movements are internal.
Overpowering and destroying the enemy in application is external; neutralizing and using the opponent's energy against him is internal.
Kung-fu with lots of movements is external; simpler, more comfortable movements are internal.
Not only the precise meaning, but also the membership of the internal family is disputed. The schools of Bajiquan and Yongchunquan sometimes claim neijia status, due to the accord of their principles with those of Sun Lutang, whereas instructors of Taijiquan, Baguazhang, and Xingyiquan insist these trespassers are "external arts".
The Powerful Secret They Don't Want You to Know
Every style of martial arts has its own flavor and personality. As solutions to a common problem—effective physical combat—these arts must also share certain characteristics. The arguments over the true meaning of internal martial arts will never be resolved, because the historical and technical facts are irrelevant.
Neijia is and always has been a marketing term. It appeals to the human desire to become an insider and attain a privileged status, preferably through something other than hard work.
Waijia is the straw man. As the story goes, external martial artists are ineffectual because they do not have the correct principles and concepts. Conveniently, these principles and concepts can be learned from a book. Or, perhaps during an expensive weekend seminar, given by a master whose credentials consist mainly of writing books!
(A quick Amazon.com search shows dozens of titles on internal martial arts, and zero specifically about external martial arts. This is marketing at work.)
The inconvenient truth is that principles and concepts are cheap; everyone has them. Mastery of any martial art requires a huge investment of time and effort, and nothing less. Sales pitches suggesting otherwise should be taken with a large grain of salt.
The definitions of internal and external martial arts are too vague and shallow to fuel the deep reflection and analysis that lead to mastery. Dedicated students and teachers of martial arts should move beyond them, without hesitation.