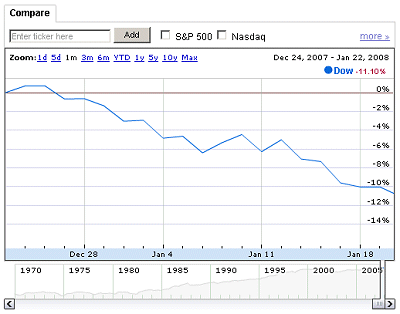 My Fellow Investors,
These are perilous times, for even the best of us.
A few short months ago, the market analysts were telling us this would never happen…that the fallout from the banking industry's irresponsible lending practices would be confined mainly to the housing sector, and our broader economy would continue its gentle ascent.
Folks, the hot-air balloon ride is over. Today, we find ourselves unwilling passengers on an economic Hindenburg. The markets are dropping fast. Typically reserved pundits are openly using the R-word—recession—and a few have even mentioned the D-word!
In response, the Fed enacted an emergency interest rate cut, and the President proposed a $150 billion economic stimulus package. The mitigating force of these actions is yet unknown, but this such is certain: things will get worse before they get better.
The Best of Times is the Worst of Times
Be fearful when others are greedy and greedy when others are fearful.
These words of wisdom were spoken by the great Oracle of Omaha, Warren Buffett. Over the past few decades, Buffett's contrarian investment strategy made him a billionaire fifty-five times over—and now it's your turn.