It seems my critics are right: I am a little slower than average.
Patrick Parker (of Mokuren Dojo) and I were discussing the feasibility of intelligent responses to physical attack. Patrick asked:
What exactly do you have to do to get the faster intelligence that Chris says we need? Well, really we can't. From my understanding of the neuromuscular machine I don't really think that you can make the brain/spine/muscle machine work faster than it already does. There is hardwired into us about a ¾ second delay (if not more) in the OODA loop.
A search for evidence supporting or refuting this unavoidable delay, led me to the Human Benchmark reaction time test.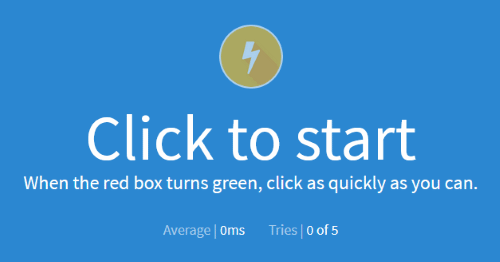 My test results were: 283ms for the first set, 260ms for the second set, and 221ms for the third set of clicks. With a little more practice, I could probably reach the statistical average measurement of 200 milliseconds.
This visual-motor game is not an good measure of self-defense skill—wherein you are encouraged to use all five senses, and especially to cheat—but it does highlight an important physical limitation.
What are your test results?