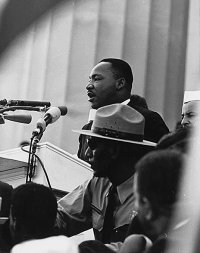 You speak of our activity in Birmingham as extreme. At first I was rather disappointed that fellow clergymen would see my nonviolent efforts as those of an extremist. I began thinking about the fact that I stand in the middle of two opposing forces in the Negro community. One is a force of complacency, made up in part of Negroes who, as a result of long years of oppression, are so drained of self-respect and a sense of "somebodiness" that they have adjusted to segregation; and in part of a few middle class Negroes who, because of a degree of academic and economic security and because in some ways they profit by segregation, have become insensitive to the problems of the masses. The other force is one of bitterness and hatred, and it comes perilously close to advocating violence.

I have tried to stand between these two forces, saying that we need emulate neither the "do-nothingism" of the complacent nor the hatred and despair of the black nationalist. For there is the more excellent way of love and nonviolent protest. I am grateful to God that, through the influence of the Negro church, the way of nonviolence became an integral part of our struggle. If this philosophy had not emerged, by now many streets of the South would, I am convinced, be flowing with blood.

Oppressed people cannot remain oppressed forever. The yearning for freedom eventually manifests itself, and that is what has happened to the American Negro. Something within has reminded him of his birthright of freedom, and something without has reminded him that it can be gained.

If his repressed emotions are not released in nonviolent ways, they will seek expression through violence; this is not a threat but a fact of history. So I have not said to my people: "Get rid of your discontent." Rather, I have tried to say that this normal and healthy discontent can be channeled into the creative outlet of nonviolent direct action. And now this approach is being termed extremist.

But though I was initially disappointed at being categorized as an extremist, as I continued to think about the matter I gradually gained a measure of satisfaction from the label. Was not Jesus an extremist for love: "Love your enemies, bless them that curse you, do good to them that hate you, and pray for them which despitefully use you, and persecute you." Was not Amos an extremist for justice: "Let justice roll down like waters and righteousness like an ever-flowing stream." Was not Paul an extremist for the Christian gospel: "I bear in my body the marks of the Lord Jesus." Was not Martin Luther an extremist: "Here I stand; I cannot do otherwise, so help me God." And John Bunyan: "I will stay in jail to the end of my days before I make a butchery of my conscience." And Abraham Lincoln: "This nation cannot survive half slave and half free." And Thomas Jefferson: "We hold these truths to be self-evident, that all men are created equal …"

So the question is not whether we will be extremists, but what kind of extremists we will be.
In his Letter From a Birmingham Jail, Martin Luther King Jr. posed a question to bloggers great and small.
Your blog confers a measure of authority, influence, and social capital. How do you choose to spend it?
Building a loyal audience is simple: just tell the people what they want to hear. Following the crowd is the safest route to fame and wealth; but would do you dare to endorse an inconvenient truth?
Martin Luther King dreamt of a nation whose citizens would be judged not by the color of their skin, but by the content of their character—and he worked tirelessly to achieve that dream.
On April 3, 1968, the day before an assassin's bullet ended his life, Martin Luther King expressed his willingness to die for the causes of freedom and equality. King acknowledged his inescapable mortality, the necessity of sacrifice, and the choices he faced: to die for nothing, or for something. For what cause are you willing to sacrifice?
What kind of extremist are you?