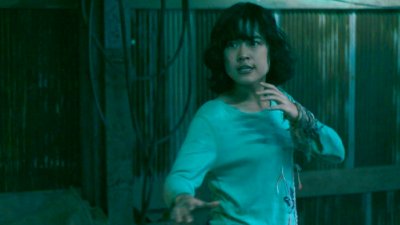 Yanin Vismitananda, a.k.a. "Jeeja" Yanin, spent two years training for her role in Thailand's latest martial arts showcase. A Taekwondo expert in real-life, Jeeja plays an autistic Thai boxer in Chocolate.

Jeeja collects on an old debt
(Icehouse scene inspired by Bruce Lee's Fists of Fury)

Muay Thai vs. breakdancing
Chocolate's fight scenes were entertaining, though they do not meet the imposing standards set by Tony Jaa in Ong Bak and Tom Yum Goong. The plot and acting were predictably bad, the editing surprisingly so. Incredibly, in the year 2008, the official DVD release doesn't even include English subtitles!
Dedicated fans may be able to locate a fansubbed copy on the Internet. Otherwise, sit tight for the upcoming release of Ong Bak 2, which may just turn out to be the best martial arts action movie ever made:

Tony Jaa's Ong Bak 2 (late 2008)
[The film] is about a man with two sides – good and evil. Conceited about his talents, he lives in a world of darkness until he discovers the beauty of khon, a traditional masked dance of Thailand, and transforms it into a graceful fighting skill.

Star Tony Jaa will be bringing more than his bare firsts and feet to "Ong Bak 2". Fans will see him fighting with a range of weapons, including the sword and the spear. [continued at The Nation]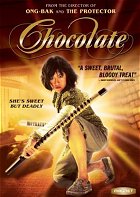 Update: This review was based on the original, 110 minute Thai cut of Chocolate. The US DVD release is twenty minutes shorter; it seems that all the worst scenes have been removed, and proper English subtitles were added. I do recommend watching the new version.