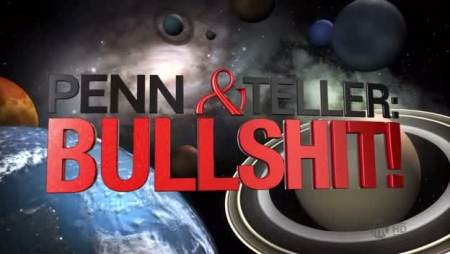 In a recent episode of their hit Showtime series, stage magicians Penn Jilette and Raymond Teller warn viewers away from the universally fraudulent field of martial arts. Now a real expert martial artist rescues us from their half-baked debunkings.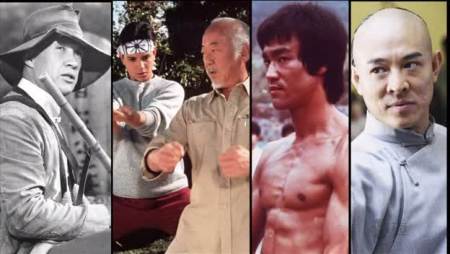 For their own convenience, Penn and Teller divide the world of martial arts into three categories: traditional, mystical, and murderous. During the show, they interview and mock one representative from each category:
To support their otherwise meritless position, Penn and Teller rely on Marc MacYoung of No-Nonsense Self Defense. Although MacYoung is presented as a skeptical outsider here, he is actually the best known of these four, and is highly regarded within the martial arts community.
Having introduced the litigants, let us now review the case. Assistance is provided by a handy Truth-o-Meter, which I borrowed from the St. Petersburg Times.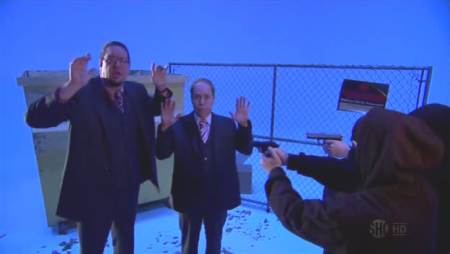 While facing a mugger with a gun, Penn and Teller say:
If we had invested in martial arts training, we could try to go all Bruce Lee on their asses. But a few years ago, we did the arithmetic, and we figured that Karate lessons–even kids' Karate lessons–would cost us a grand or more a year, for each of us. And the hours we spent in class, and driving to the dojo, and practicing and sweating and bowing and Fuck that! We have a better, cheaper, and less risky self-defense system. [Penn hands over his wallet and watch.]

Throughout the episode, Penn Jilette uses the terms "martial arts" and "self-defense" interchangeably, despite the fact that his own sources (Ross and MacYoung) insist otherwise. Self-defense is one of many possible benefits of martial arts training; performance varies with the student and the school.
Exercise is another benefit. According to our 2009 survey, average monthly martial arts tuition is around 80 dollars per month: this is comparable to a standard health club membership, if you include a short monthly coaching session with a personal trainer.
Penn Jilette advises that obedience is a better self-defense solution. This may be true in the case of a simple mugging, and most martial arts instructors would agree. As for dealing with the threat of rape or violent assault…don't ask a six-foot-six, 270 pound Hollywood millionaire.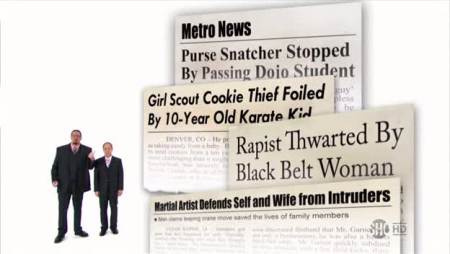 When outlining the content of the show, Penn Jillette says:
What we won't be seeing much of are headlines like these: "Purse Snatcher Stopped by Passing Dojo Student", "Rapist Thwarted by Black Belt Woman," et cetera. Sure these stories exist, they must, but with all the people taking all these martial arts classes, shouldn't we see these headlines all the time?…None of us could remember [seeing] a story like this in the news; when it happened, wouldn't every dojo send out a press release?

As a former columnist for PC Magazine, Penn ought to know how and why these headlines appear, and why they do not appear more often: an exceptional sequence of events is required. First, a crime must be committed against someone who "knows" martial arts well enough to apply them under pressure (but not well enough to actually prevent or avoid the crime). Second, either the victim or a bystander must report this crime to the police. Third, the victim must specifically demonstrate or reference their "martial arts ability" (instead of attributions to luck or athleticism) for the report. Fourth, a media organization must observe this, and decide it is a newsworthy event.
When a martial artist stops a crime before it has even started, there is no headline. Martial arts help us to avoid becoming a victim, by teaching us to stop acting like a victim. As Geoff Thompson has explained, few criminals are interested in trying their luck against a hard target.
When a crime goes unreported, there is no headline. On those few occasions when I've been personally assaulted, I never bothered to call the police. A good friend of mine was attacked by a gang and stabbed in the gut, and he didn't call the police either–as he recalled, it was just a light stabbing, and filing a report wasn't worth the hassle. This happens all the time.
When a martial artist keeps their mouth shut, there is no headline. Most are taught to exercise discretion–either out of humility, or to avoid challenge matches and unwarranted scrutiny from law enforcement. As an innocent victim, nobody will demand to know why you hit back; as a self-identified martial artist, you may be expected to turn cartwheels around your attackers, and punished for anything less.
When the story isn't compelling or advertiser-friendly, there is no headline. This last point warrants no further explanation.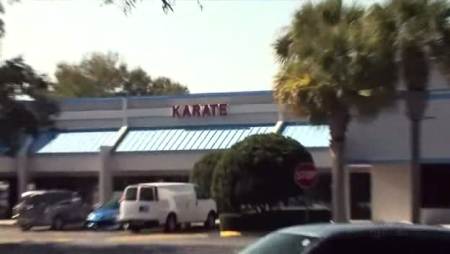 Penn Jilette helpfully translates,
"Dojo" is Japanese for "storefront in strip mall".
OK, this is mostly true.
Penn and Teller introduce Healing Tao instructor Dean Saxer,
Dena has been teaching the ancient Chinese practices of Chi Kung and Tai Chi ever since the powers of chi healed her osteoporosis. That's what she said. We don't know why she's here on Showtime, rather than presenting her double-blind study on the curing of osteoarthritis through Chi Kung to the Journal of the American Medical Association.

Dena is not presenting to the AMA because this is a settled issue. The safety and efficacy of Qigong as an arthritis treatment is well established, in theory and practice. Common objections, that the theory is not acceptable and the observed results are unimportant, fail to impress this writer–or the many practitioners who have found relief through these practices.
Before providing his opinion of Qigong, Penn Jilette should first learn how to pronounce it correctly. If this is prohibitively difficult, he could instead browse the 3000 search results in PubMed (assuming that he can spell it correctly).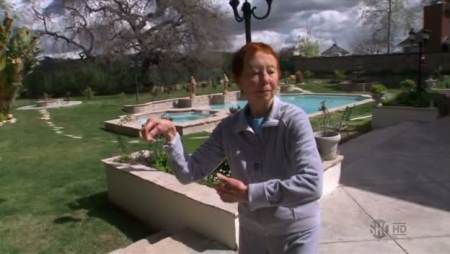 Dismissing the effectiveness of Tai Chi Chuan, Penn Jilette says:
And this is going to repel an attacker? Maybe if he's afraid of French mimes.

After mislabeling martial arts as systems of self-defense, who have Penn and Teller selected to test the fighting capacity of Tai Chi? An elderly female theatre major, whose primary interest lies in the therapeutic aspects of the art. Sacrebleu!
If nothing else, this decision explains the title for their TV series. It is also a wasted opportunity; I would have paid good money to see Penn attempt a hands-on investigation of Chen Bing, or any of a hundred other masters who take fighting applications seriously.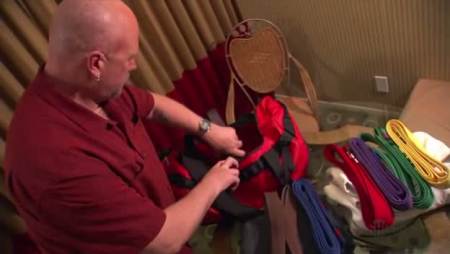 Marc MacYoung explains the significance of belts in the martial arts,
It turns out there has never been a accepted standard for what a black belt means, or any other color belt for that matter. Simply put, martial arts is a business, and the belts are its primary product…For two or three thousand dollars, not including belt testing fees, equipment fees, and all these other hidden fees, you can get a black belt in one year, guaranteed.
This is standard practice in modern, commercial schools. It is far from universal, however. Note that of the four martial arts experts on this show, only one of them actually awards belts!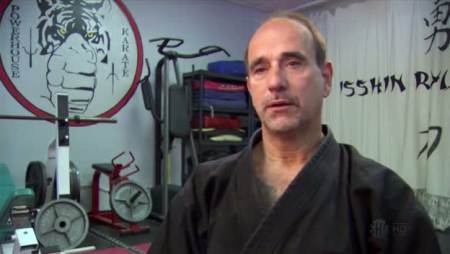 After learning that senior students not only assist in teaching, but also mop the floors and change the light bulbs in Mike Reeves' dojo, Penn complains:
"Wait a second, that's like paying your gym membership to scrub the showers. But this isn't unique to Mike's dojo. This is all dojos around the country…What's the Japanese word for suckers?"
The word in question is giri, and it can be translated as "obligation". Unlike colored belts, this practice does have a historical precedent. Giri generally includes, but is not limited to basic dojo maintenance duties.
The plain fact is that if students will not perform these simple tasks, they must pay for someone else to do it. Veteran students tend to give their dojo as much respect as their own home, and if sweeping the floor is not exactly an honor, it is hardly a punishment either.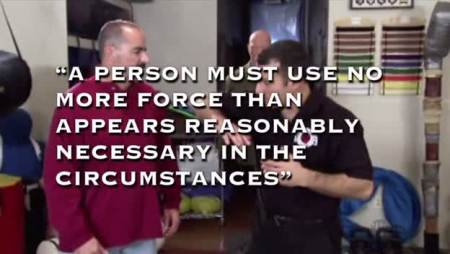 Responding to Damian Ross' bluster, that producing killer students makes him proud, Penn and Teller declare,
According to the legal definition of self-defense, 'A person must use no more force than appears reasonably necessary in the circumstances.' Otherwise Damian, your students are looking at manslaughter charges.

The standards for legally permissible self-defense vary by jurisdiction: city, state and country.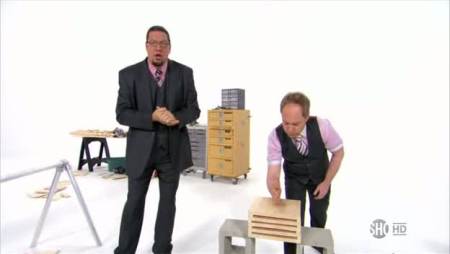 Revealing the secrets of board breaking, Penn Jilette states,
Now breaking even one board is damn near impossible if you whack the board [against the grain]. But if you turn it, you're splitting it between the fibers. Still, even with soft pine, breaking a stack of five takes a hell of a whack, unless you put pencils, chopsticks, or some some separators between them. Now you're just breaking one board after the other, separately.

Penn actually understates the widespread duplicity of Karate and Taekwondo breaking demonstrations! (More on this subject here.)
In his parting cheap shots, Penn inquires,
What's the point of all these crazy [Tai Chi] moves?
Dena responds,
They teach you to listen to your organs, and after awhile, your organs will talk to you…I'm not kidding.
??
After taking great care to present Dena as a faded fruitcake, Penn asks two other people whether they believe her wacky claims. Their answer, unsurprisingly, is no. But what do you think? Can organs really talk?
Are Penn and Teller out of their depth here? Or do you agree with their conclusion, that martial arts are bullshit?