Introduction
Qigong (chi gong) is most often understood as a set of active exercises, guiding qi (chi) energy around the body through intention, movement, and sound. It is less well known that Qigong incorporates rigorous courses of standing and seated meditation. These active and passive, external and internal modalities are mutually supportive.
One of the first goals of Qigong meditation is to reach a deep level of quietude within the mind and body. Sustained quiet allows a student to perceive increasingly subtle objects and movements inside their body.
In a quiet meditative state, relationships and correspondences that were previously hidden or overlooked, become clear and credible. In other words, meditation allows for biofeedback training without the need for electronic biofeedback instrumentation.
Portions of Wu Xing, the Chinese five-element theory, are patterned after these relationships. Students of meditation and martial arts are often surprised to discover that Wu Xing is not merely a poetic concept or metaphorical diagram. Wu Xing has literal application and predictive power.
Traditional Chinese Medicine recognizes that chronic emotional imbalance affects organ function. Each of the five emotions–anger, joy, anxiety, sadness, and fear–is associated with a pair of Yin and Yang functions ("organs"). Due to their heightened sensitivity, some meditators and Qigong practitioners can perceive this relationship immediately and directly.
When an advanced student drifts too far out of balance, they may immediately feel a sensation in the corresponding organ(s). This is not a creative visualization or a theoretical belief–it is as real, and sometimes as unpleasant, as hot coffee spilled in your lap.
Consequently, these students quickly learn self-discipline. This level of gongfu (kung fu) automatically aligns the practitioner's immediate interest in avoiding pain, with their longer-term aspirations for emotional stability and tranquility.
Emotional balance is the foundation upon which more advanced Qigong and meditation practices are built. It is also the foundation of a pleasant, empathetic and rewarding life.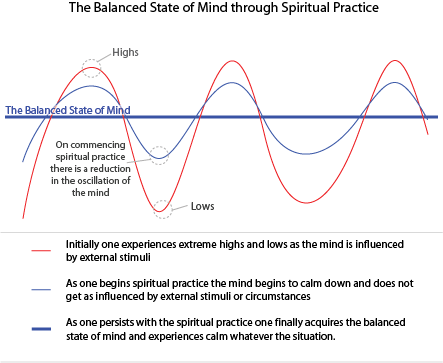 Diagram courtesy of Spiritual Science Research Foundation

Steps
This gongfu skill is primarily a result of attaining a quiet and emotionally neutral meditative state, and remaining within it for a sufficient length of time.
Any exercises that increase your internal sensitivity, or your ability to sit quietly and comfortably for an extended period of time, will likely speed your progress. These exercises include Taijiquan (and other martial arts), zhan zhuang, and the Taoist Six Healing Sounds method.

Warnings
The efficacy of meditation is not dependent on your "belief" in it. However, assertive dis-belief is a distraction and a form of noise, and it will prevent you from remaining in the quiet state. Trying to feel or impose these relationships, rather than waiting for them to reveal themselves, may also prove counterproductive.
The particular form of insight described above is helpful, but not necessary for emotional self-regulation.
There is no exact timetable for any meditative achievement. Fortunately, there is a clear difference between reaching, and failing to reach the quiet state in which gongfu is built.
Real internal gongfu is rarely found amongst teachers of "internal martial arts." Do not expect them to provide any guidance or expertise in this area, except perhaps to foolishly claim these skills do not exist.
Do not discuss these matters in mixed company. It will lead to ridicule at best, and at worst, involuntary psychiatric treatment. Although this is still an early stage of accomplishment in Qigong, it is already well beyond the current understanding of mainstream Western medical science.

More Information