Yes, I was practicing martial arts in public, but I wasn't looking for trouble. I wasn't looking for attention, just wanted to enjoy a beautiful fall afternoon at the park.
I was only twenty minutes into an outdoor routine (that is, an indoor routine stripped of any provocative elements) when I heard a group of teenage boys approaching behind me. I continued to mind my own business, but they were not content with theirs.
Did they taunt me with the standard Bruce Lee kung fu yelps? Well, of course they did; and I ignored it, just as I have ignored it three dozen times before. But unlike three dozen times before, this group did not have a few laughs and keep walking.
They dared each other to throw a rock at me, and that I could not ignore. If the first rock went unanswered, it would not be the last.
It appeared to be a no-win situation. We all knew that, if things got ugly, I would be forced to shoulder the blame. In the eyes of the public, I would be "the menacing Kung Fu expert who terrorized a group of harmless, innocent children." Aside from the teens, there were no witnesses present to testify in my defense.
As I stood there with my back turned, the rowdy gang quieted down. Prompted by a mixture of fear and unwarranted confidence, one boy picked up his rock and took aim.
The Moment of Truth
Without breaking form, I spun around and looked that boy straight in the eye. We reached an immediate and wordless compromise: from only ten yards away, his rock would miss me by a country mile, and I would not retaliate against him. Nobody would call him a coward, and everyone would go home intact.
"I missed," was the boy's flat and unconvincing apology to his buddies. Now holding my obvious and menacing attention, the group decided to move on.
Yes, this is a boring story, but it is a true story, and I am quite proud of the ending. Just another boring example of the options we give ourselves, by viewing martial arts through the widest possible lens.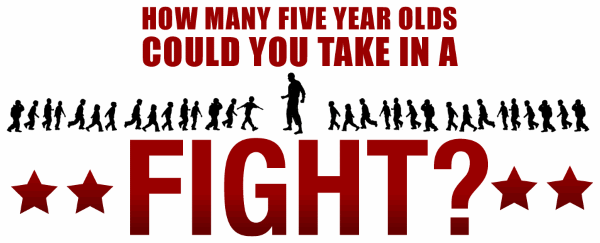 Calculate your child beating score, just for fun