Rewriting History, Wiki Style
Martial arts are systems of codified practices and traditions of training for combat. While they maybe studied for various reasons, martial arts share a single objective: to defeat a person physically or to defend oneself from physical threat.
~ Wikipedia
Wikipedia's simplistic definition begs the question: martial arts are martial arts. The statement itself is neither true nor untrue—it is a game rule—but it does reflect an ignorance of, or perhaps a malevolence towards historical facts. Taken at face value, it encourages a dismissive, one-dimensional analysis of the arts' tremendous potential.
To avoid limiting our achievement in the martial arts, we should begin with an honest and dispassionate accounting of the past. What was the real original purpose of various "martial arts"?
The first clues may be found in our forefathers' own speech and writings. The Japanese "martial arts" of Aikido and Karate were both systematized less than one hundred years ago, and there is relatively little controversy over their origins.
Morihei Ueshiba left no room for ambiguity when he described his vision of Aikido:
There is no enemy in Aikido. It is wrong to think that having an opponent or an enemy, or trying to be stronger than him and trying to overpower him is true budo. True Budo has no opponent, True Budo has no enemy. True Budo is to become one with the universe. The purpose of Aikido practice is not to become strong, nor is it to fell an opponent. Rather, it is necessary to have one's heart at the center of the universe, then as little as it may be, help maintain peace among the peoples of the earth. Aikido is both like a compass that enables each person to realize his own individual destiny, as well as a way of unity and love.
Conclusion: Aikido, by Wikipedia's definition, is no martial art.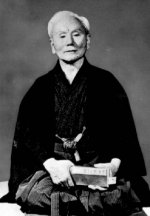 Gichin Funakoshi
Not everyone in the Karate world appreciates Gichin Funakoshi's assertion that "the ultimate aim of Karate lies not in victory nor defeat, but in the perfection of the character of its participants," but they do acknowledge he said it. Apparently, Shotokan Karate is no martial art either.
While the historical origins and inventors of older "martial arts" styles are more widely disputed, the practices themselves discredit the martial arts classification—unless you believe Taiji (the metaphysical model) was created to justify Taiji Boxing, or that Ving Tsun's most fundamental training method was conceived as a fighting stance, or that a bunch of genuine Buddhist Shaolin monks were obsessed with hand-to-hand combat.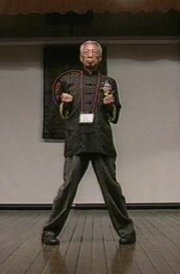 Siu Nim Tau
Basic training of Ving Tsun Kuen
And we can look beyond China and Japan, to the so-called "martial arts" of other cultures. Capoeiristas are expected to sing and play musical instruments during practice. How exactly does this further the objective of "defeating a person physically, or defending oneself from physical threat"?
The historical data support one rational conclusion: martial arts are not martial arts, they are merely used as martial arts. The distinction is critical for its consequence: everything is potentially a martial art, and therefore every time and every place presents an opportunity for study.