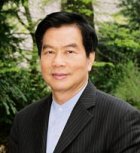 Mantak Chia
Mantak Chia was born in Bangkok, Thailand in 1944. His pursuit of Taoist teachings led him to meet the White Cloud Hermit Master Yi, a Taoist Master living in the mountains near from Hong Kong.
Over a period of five years, Master Yi transmitted to Master Mantak Chia the most sacred and closely held Taoist practices, formulas and methods of internal alchemy, culminating in the Reunion of Heaven and Man.
The author of dozens of books, booklets, videos and CDs describing these practices, Master Mantak Chia has taught hundreds of thousands of eager students the principles of Taoist internal practice over the past 40 years.
Following is an excerpt from a recent Blog Talk Radio interview with Mantak Chia:
Lama Tantrapa: What is the purpose of qigong practice?
Mantak Chia: The initial purpose of qigong practice is to become stronger, to heal yourself, and increase your wisdom and knowledge. The early stages are like Taiji, and afterwards we can begin what we call supreme inner alchemy practice.
LT: After a person has achieved good health, does that purpose change?
MC: Yes. In neidan or inner alchemy practice, you learn to condense your energy, and transform the physical material of the body into energy, for spiritual growth…Taoists believe that, like the physical body, the spirit requires careful nurturing to reach maturity.
LT: Do sexual practices play a role in this process?
MC: Jing qi, or sexual energy, is the most powerful energy we have. It is like "baby formula" for the spirit. Normally, the body will sacrifice this energy during sex, for the purpose of creating children…if you don't know how to practice, then between sexual arousal and orgasm, the energy is lost.
The process begins with physical discipline. Sex, drugs, even coffee…these cause a loss of energy, even though an addict feels listless without them…after experiencing the bliss of practice, these addictions will lose their hold.
LT: Tell us about your own learning progression.
MC: I first learned how to open the microcosmic orbit. Everything in the universe, down to the smallest electron, moves in an orbit…
Even before this though, you must learn how to control your emotions. Negative emotions will disturb you and waste your life force. The inner smile technique can remove these negative emotions.
To listen to this entire interview–or other interviews with Scott Sonnon, B.K. Frantzis, Sam Masich, Ken Cohen, Dr. Effie Chow and more–visit Secrets of the Qigong Masters.