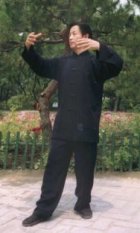 Yao Chengguang performs
zhan zhaung
Even an exercise as simple as zhan zhuang has its subtle points, the ignorance of which may hinder your progress in wushu. Wang Xiangzhai, the founder of Yiquan and a master of zhanzhuang, said:
We must, first and foremost, avoid the use of clumsy force, in body and in mind. Using this force makes the qi stagnant. When the qi is stagnant, than the yi stops; when the yi stops, than the spirit is broken.
To be sure, this is good advice, but even the greenest student is familiar with this principle of no-force. So, instead of dwelling on that, I would like to examine a more specific problem.