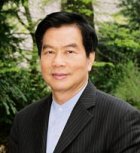 Mantak Chia
Mantak Chia was born in Bangkok, Thailand in 1944. His pursuit of Taoist teachings led him to meet the White Cloud Hermit Master Yi, a Taoist Master living in the mountains near from Hong Kong.
Over a period of five years, Master Yi transmitted to Master Mantak Chia the most sacred and closely held Taoist practices, formulas and methods of internal alchemy, culminating in the Reunion of Heaven and Man.
The author of dozens of books, booklets, videos and CDs describing these practices, Master Mantak Chia has taught hundreds of thousands of eager students the principles of Taoist internal practice over the past 40 years.
Following is an excerpt from a recent Blog Talk Radio interview with Mantak Chia:
Lama Tantrapa: What is the purpose of qigong practice?
Mantak Chia: The initial purpose of qigong practice is to become stronger, to heal yourself, and increase your wisdom and knowledge. The early stages are like Taiji, and afterwards we can begin what we call supreme inner alchemy practice. Continue reading Mantak Chia on Sex, Discipline, and Qigong