While reading another martial arts blog, I encountered this advice on the use of anger:
You have to be aggressive and attack your opponent, attacking them will make them block more and hence stop their attacks… So how do you become aggressive, if it's just not in your nature? It's all about how you process the situation, psychologically. Start thinking "I'm not going to let them do this to me. Fcuk them!". You have to get mad.
I believe that, if you practice martial arts for personal development, rushing to rage is a counterproductive strategy.  And truthfully, anger isn't all that useful for fighting either.
Practical Applications of Anger
The emotion of anger appears in different forms and to different degrees.  To clarify, I am referring to wrath and fury, not to mere annoyance or acrimony.  And I certainly am not referring to passion and determination, which some people classify as anger for reasons unknown to me.
Anger can be used in individual combat to intimidate an opponent.  By assuming a terrible demeanor, you may prompt your opponent to make a fearful retreat.  Consider this a charitable alternative to destroying your opponent's body.
Attempts at intimidation will not succeed against every opponent.  They are likely to work only on those who are physically and mentally weaker than you.  Opponents who know they are stronger, or who believe they are stronger, will not be cowed by these psychological tricks.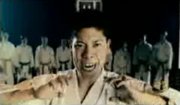 Anger will prevent you from fully employing your hard-earned skills.  Timing, precision, coordination and sensitivity decrease during emotional peaks.  If you are fast and strong, this may not be a problem; if not, you will be left with no means to defend yourself.
With a loss in sensitivity comes an increased tolerance for pain.  This is deceptively appealing, and very dangerous: if you don't feel the pain, you won't avoid the damage that often follows it.  Pain is a gift; accept it graciously.
Alternatives to Anger
Anger, fear and anxiety are natural human responses to stress.  Fighting is stressful because the risks are significant and the outcome is unknown.
As you build familiarity and skill in martial arts, unknowns become knowns, and you gain control over the outcome of conflict.
As you clarify and shape the probable outcome of conflict, your stress decreases.
As your stress is reduced, emotional extremes become superfluous and will subside.
These are natural processes that manifest in authentic study of martial arts.  Through practice, you can reach emotional equilibrium and greater levels of self-control.