Recognizing the tremendous importance of timing, Japanese martial artists classify their responses into three types:
Go no sen refers to a late reaction, initiated after the attacker's movement has begun. Late reactions are unreliable, relying on extraordinary motor speed for their successful application.
Sen no sen describes a response launched roughly in time with its attack. While obviously superior to go no sen, some practitioners consider this an intermediate level of skill.
The ultimate timing, sen-sen no sen, responds to an attack that has yet to be launched, one that has only just formed within the opponent's mind. An expert in sen-sen no sen might use this timing to guide his assailant into a futile and vulnerable position, or launch a preemptive strike.
Martial legends aside, how does science explain this seemingly paranormal ability? Is it possible that high-level martial artists have used precognition and other psychic abilities to enhance their effectiveness? Or are they all just very quick?

From National Geographic Channel's Fight Science
Fast reaction time is a valuable trait for the martial artist. By reacting almost instantly to an opponent's movement, a fighter might also appear to be a mind reader. Sharp reflexes are a sensible explanation for this seemingly paranormal feat—but they are not the simplest explanation.
Entia non sunt multiplicanda praeter necessitatem, Occam's razor states: do not add elaborations beyond what is necessary. The simplest possible cause for the appearance of psychic power is genuine psychic power. Unless and until we have shown that explanation to be false, it is irrational to search for more elaborate alternatives.
A Summary of Psychic Research
The study of psychic phenomena, like that of ethnic or gender differences, is a taboo topic among the scientific community; empirical observation might strengthen a politically unacceptable idea. Thus, noisy amateurs dominate the field: skeptics and believers insist that these paranormal skills must or must not exist, giving little attention to experimental results.
"Using the standards applied to any other area of science, it is concluded that psychic functioning has been well established."
– Prof. Jessica Utts, UC Davis
Nevertheless, a small number of researchers have performed experiments. And they have demonstrated, beyond a reasonable doubt, that direct mind-to-mind communication (telepathy) and premonitions (precognition) are real!
Dean Radin, of the Institute for Noetic Sciences, outlined the research and conclusions during a recent presentation at Google's California headquarters. Here are some highlights from his free 90-minute talk: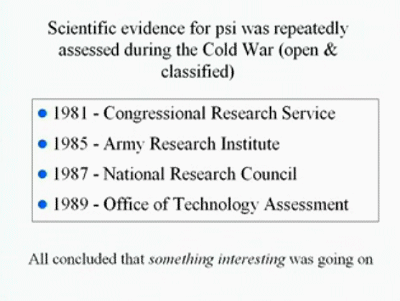 Between 80% and 90% of reported psychic experiences can be dismissed as selective memory, wishful thinking, coincidence, misperception, embellishment or mental illness. The remainder cannot be dismissed with any of these explanations.
Scientific oversight panels convened by the United States government have repeatedly assessed the evidence for psychic powers, or psi, and judged them credible.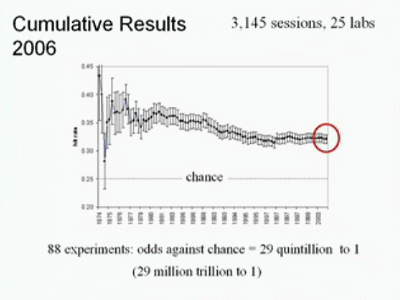 An analysis of major telepathy experiments conducted over the past century shows a statistically significant effect. The statistical probability that these results represent random chance: 29 million trillion to 1.
The measured effects of psi are five times greater than the effect of aspirin in preventing heart attacks. Nearly everyone accepts the latter effect as real.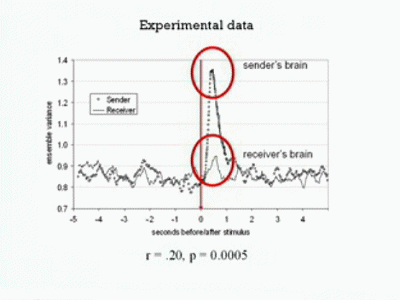 fMRI and EEG machines have repeatedly corroborated a psychic link between two human test subjects.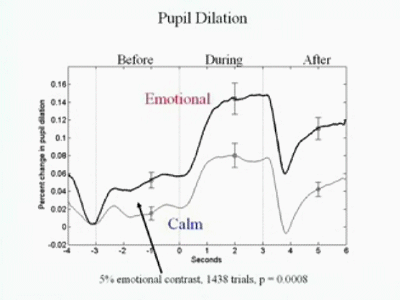 Other studies have shown that test subjects often respond to an emotionally charged (erotic or violent) image slightly before the image actually appears, or has been selected (randomly by computer). This magnitude of the precognition effect is lower for emotionally neutral images (such as a table lamp). These results cannot be explained by any procedural or analytical defect in the studies themselves.
None of this proves that history's greatest martial artists bested their opponents with the help of psychic power. If asked, the majority of them would certainly deny it. However, as instructor Raymond Thiberge noted, even experts can fail to understand the details of their own performance.
Accepting that psi ability does exist, martial arts training might be an ideal route to its cultivation. In what other setting could you willfully misdirect another person's autonomic nervous system or subconscious mind, without violating ethical standards of conduct? In what other activity would the power to see just 200 milliseconds into the future offer such a distinct advantage?
Your thoughts?