Since we practice movement every day of our lives, it is easy to overlook the complexity of this task.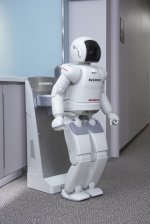 Voluntary movement, by definition, begins as an act of will. Willpower directs the brain, to signal the muscles, to exert force, to reposition the body in space, adjusting these commands in a real-time response to ongoing sensory feedback. And an accidental failure at any point in the sequence can foul up the end result, causing us to move poorly, freeze in place or topple over.
If an attacker could somehow introduce malicious commands or false information into our system, they could lead us to self-destruction. Fortunately for our individual liberty, there is no way to breach these communication pathways from the outside…or is there?
The Man in the Middle Attack
Actually, this stratagem is commonly employed in information warfare, where it is known as the man-in-the-middle attack (MITM). Most communication channels that assume security (instead of proving it) are vulnerable to such an attack.
An MITM attack is executed by intercepting and modifying a message sent through a trusted channel. These attacks are not restricted to electronic communications; they work equally well in face-to-face interactions. For example, consider this San Francisco nanny scam, summarized here by Bruce Schneier:
Here's a story of a woman who posts an ad requesting a nanny. When a potential nanny responds, she asks for references for a background check. Then she places another ad, using the reference material as a fake identity. She gets a job with the good references — they're real, although for another person — and then robs the family who hires her. And then she repeats the process.

Look what's going on here. She inserts herself in the middle of a communication between the real nanny and the real employer, pretending to be one to the other. The nanny sends her references to someone she assumes to be a potential employer, not realizing that it is a criminal. The employer receives the references and checks them, not realizing that they don't actually belong to the person who is sending them. It's a nasty piece of crime.
The connection between mind and body is the ultimate trusted communication channel. You trust your senses, but have no way of independently verifying the information they provide. Your muscles follow the mind's commands, but never question the source.
Imagine for a moment that man-in-the-middle attacks could be employed in personal martial arts. What forms might they take, and how would you defend yourself against them?