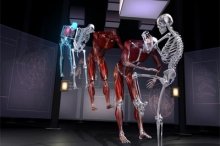 In the new martial arts documentary Fight Science, computerized sensors are used to objectively measure the speed, power and balance of various martial artists. 
Among the findings:
The boxer punches with 1000 pounds of force;
The wushu practitioner moves faster than a snake;
Damage from a Muay Thai knee is comparable to a 35MPH car crash.
These data points illustrate that martial arts practice results in a stronger, faster body.  However in my opinion, they capture neither the most significant benefits of practice, nor the most interesting esoteric skills.
Disciplined martial arts study enables conscious regulation of the body's respiratory, circulatory, and nervous systems.  Such regulation, which includes controlling respiration and heart rate, mitigates the negative effects of constant environmental stress. 
Few of us are called upon to defend our lives in barehanded combat, but we all face environmental stress, and our health is influenced by our ability to respond appropriately to it.  For the average person, this may be the most important benefit of practice.
Heart and lung activity are easy to measure, but boring to watch, so I'm not surprised that they were left out of this show.  Besides, these skills have already been measured and documented many times before.
More exotic skills include:
Manipulation of Qi and blood flow;
Light emission; and
Adjustment of electromagnetic fields in and outside the body.
In the absence of direct personal experience, most people doubt the existence of these skills.  But in fact, reputable researchers (such as Dr. Shin Lin of the UC Irvine's Mind Body Lab) using the latest biomedical monitoring equipment have validated their existence. 
I predict this research will add a bizarre twist to debates over the ultimate martial art style.  Who is better, the master who can do a spinning back kick, or the master who can glow in the dark? 🙂
How do you measure the results of your practice?

Fight Science Video