Martial arts is one of those rare arenas where people show their true personality, without disguise or pretense. Unfortunately, some of these people are real nut jobs!
Here are three short stories of artifice and cowardice, taken from my experience in the gentle art of Aikido.
One
Two words: sharpened toenails.
That's right, this character filed each of his toenails into a sharp point. Since nobody walks around barefoot in public, only at home and in the dojo, these weapons were clearly intended for either his family or his fellow students.
I did not practice with him.
Two
I was paired up with this European gentleman who thought himself my senior. I can't remember his name, so let's just call him Chuck.
A little background info for those without experience in Japanese martial arts: in the worst dojos, the success or failure of a technique is determined not by skill, but by seniority. When a kohai (junior student) attempts to neutralize a sempai or sensei, they are expected to fail, thereby showing respect for the social hierarchy.
We were not attending a bad dojo; on the contrary, it was probably the best Aikido school in town. But Chuck had acquired some bad habits elsewhere, and wasn't quite ready to abandon them.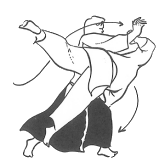 Kaiten Nage
The mat was crowded that evening, and we were only two or three feet from a wall. Chuck and I were practicing throwing techniques. When it was Chuck's turn to play uke (attacker), I entered and took his balance.
Maybe Chuck found some aspect of my performance unsatisfactory, or maybe he just wanted to put me in my place. (The contemptuous look on his face suggested the latter.) Either way, he disregarded his own vulnerability, and lifted up his leg as if to kick me in the stomach.
The situation was ridiculous. In his unbalanced position, Chuck could barely stand on both legs. And he wanted to pick one up and kick me with it? I didn't back away to avoid his foot, since it had no power behind it.
I don't know if the chief instructor noticed the slight smile crossing my face. But she rushed over, stopped us, and reprimanded Chuck. I didn't toss him headfirst into the wall.
Three
A few years back, I attended an Aikido seminar featuring a 7th dan expert from Japan. Although I didn't know most of the other attendees, I wasn't worried about bad behavior. Aikido folks are generally benevolent and well-intentioned.
A few minutes before the seminar, I went off to the corner to do my standard set of warm-up exercises. While other people were doing static floor stretches, I practiced some Fu style swimming dragon movements. One of the senior students saw my exercises, and decided he had to teach me a lesson.
After the seminar started, we were paired up to practice shiho nage. He requested that we practice slowly and carefully, since he was "recovering from brain surgery". I agreed, and when I applied the technique, I let him fall at his own speed.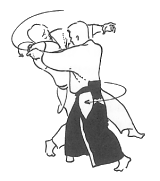 Shiho Nage
Illustration by
O. Ratti
Then, it was my turn to play uke. I attacked slowly, and he responded in turn, until the last moment. He then applied the shiho nage so viciously that, had my ukemi been anything less than perfect, I would have left the seminar early to go the hospital.
Luckily, my flip was flawless. I stood up and looked at him, uninjured but disturbed by such treachery. "Nice fall," he sneered.
Four?
Now it's your turn. What neurotic, psychotic or bizarre individuals have you met during your training? Tell your story, but please don't identify anyone by name; I don't need any legal hassles.