Pick up an issue of Black Belt or Inside Kung Fu magazine. Watch a self-defense DVD. Browse a martial arts website. If you had to write captions under each picture, what would they say?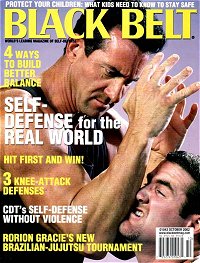 My hands are deadly weapons.
I am nobody's victim.
Don't mess with me, or you'll regret it.
These poses remind your would-be attacker what they stand to lose. And sure, they are intimidating, to a degree.
The problem is, your attacker doesn't harbor any intention of losing, and so the potential downside may just be disregarded. Continue reading Defend Yourself the Taoist Way