We've all heard stories about women's intuition–but what about soldier's intuition?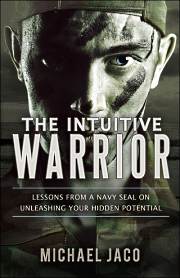 In his new book, The Intuitive Warrior: Lessons from a Navy Seal on Unleashing Your Hidden Potential, author and retired Navy SEAL Michael Jaco describes how he channeled the challenges he faced in military training and combat toward aligning his body and mind. With the two working in unison, Jaco remained calm and positive in extremely stressful situations. When he retired, Jaco then used these techniques as a civilian to enrich his everyday life.
Through personal accounts of real experiences, Jaco explains how the challenging situations he endured as a member of one of the most elite Special Forces units in the United States taught him to control his emotions and tap into his intuition. Using these capabilities, he enhanced both his mental and physical strength. In The Intuitive Warrior, Jaco says that anybody can develop the perception and awareness skills that he learned and employ them to achieve a more fulfilling life, whether seeking to improve job performance, personal relationships or physical shape.
Michael Jaco answers a few questions for Martial Development readers in this exclusive interview… Continue reading Interview with an Intuitive Warrior