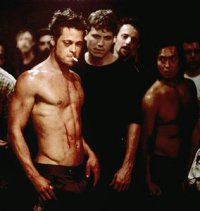 Months before Noel Lopez was found dead in the rubble of a construction site, he challenged co-workers at the Seattle Marriott Waterfront hotel to fight him in the garage where they parked cars as valets. His co-workers chalked up the strange request to Lopez's increasingly erratic behavior and his fascination with the movie "Fight Club."

Last weekend, Lopez, 25, was involved in a real fight that ended his life. At least 20 people surrounded Lopez on April 13, after drinking alcohol together, and watched him fight another man in Freeway Park, according to court records released Saturday. Construction workers found his body the next day. The man who police say fought Lopez, a 22-year-old from Federal Way, was ordered held without bail Saturday on investigation of murder.

Police are still looking for a second suspect in the slaying, a 20-year-old man.

The 22-year-old, who had not yet been charged, told police he had been contacted by friends to "straighten out" Lopez because he "was treating people wrong," according to court documents. The man told police he wrestled Lopez for the title of "King of Freeway Park," court records said.

But he claimed it was the second man who broke boards over Lopez's head and body and stomped on his stomach and chest. He said the second man fought Lopez after the three walked together to a nearby construction site.

(Continued in the Seattle Times.)
Word to the wise: assume every gun is loaded, and there is always a second man.