My teachers have disagreed on many things, but in these two points they are all in accord:
If you want to excel in martial arts, you must touch hands (spar) with as many people as possible; preferably, hundreds or thousands.
For a great achievement, you must use the correct training methods in a disciplined fashion. Avoid deviant and inferior methods, and refuse to entertain the people who use them.
In theory, there is no contradiction between these two ideals. In practice, compromise is required. Nobody agrees on what the correct training methods are, and everyone measures their progress by a different standard—except for those who reject the concepts of "progress" and "standards" altogether.
Of all the frustrations that hinder interaction among martial artists from different schools, lineages and styles—money, reputation, physical safety—this is perhaps the most difficult to address: everybody else is practicing incorrectly!
Or at least it seems that way. The truth is a bit more complicated. Martial artists have different levels of insight and experience, varied strengths and weaknesses, and divergent goals. One person chooses to invest in loss; another cannot afford it.
The Robustness Principle
When touching hands with a stranger, how do you maximize the value of the interaction and avoid wasting your precious time? Instead of inventing ad hoc rules of engagement, I personally prefer to apply Jon Postel's Robustness Principle: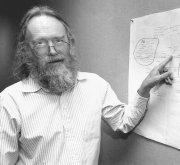 Jon Postel, Ph.D.
Credit
: Irene Fertik, USC News
[Interactions] will follow a general principle of robustness: be conservative in what you do, be liberal in what you accept from others. (RFC 793)
To put it differently, I tolerate behavior in my practice partners that I would never engage in myself. Do you agree with this principle? If so, where do you draw the line? If not, how do you satisfy both of the two points above?