1. Chu Shong-tin (徐尚田)

2. Randy Williams

3. William Cheung (張卓興)

4. Austin Goh

5. Wong Shun Leung (黃淳樑)

6. Edmund Fong

7. Nenad Koviljac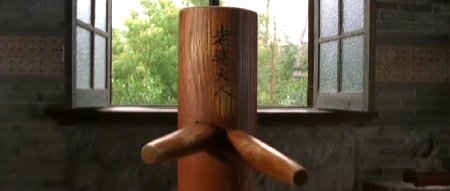 The muk yan jong, Wing Chun's signature training tool, is not a worthy fighting opponent. It never executes a defensive maneuver, or runs away from your attacks. It never hits back. Basically, it just stands there, jiggling around every so often.
There is only one way to lose a "fight" against the wooden dummy, and that is to abandon Wing Chun standards while you are using it.
The five basic guidelines for Wing Chun posture are:
Rephrased for direct relevance to the dummy form:
Do not stare at your own hands.
Do not lean on, or into the dummy.
Do not stand on tiptoe to hit the dummy's "head".
Do not forget your stance, footwork and whole-body unity while striking the dummy.
Wikipedia's advice notwithstanding, observing these points will not guarantee that you win every fight. It will guarantee you avoid undermining yourself, by attempting to use Wing Chun strategy and techniques with an inappropriate body structure.
Wing Chun: Not an art for punishing logs
Although the muk yan jong is just a fancy wooden log, it somehow manages to outsmart some martial artists. Such fellows "straight blast" their dummies with maximum strength and speed, and the dummy responds by shaking violently, pretending to give positive feedback to these indecent liberties. In revenge, the dummy offers no lessons in relaxation, alignment or flow—all important points when battling something other than a log.
Considering these points and your own experience, which of the form demonstrations above do you think is best?