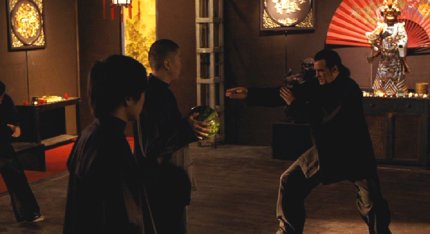 Steven Seagal reaches new heights of self-parody, in this scene from his latest movie Shadow Man:
Steven Seagal: So the idea of dim mak, or any kind of internal technique, is not to hurt others but to help others.  Dim mak can be used to heal people, it can be used to kill people.  This is the nature of chi.  Chi can be used in striking for just external, or internal.  If you go to the internal organs you'll do great damage; external, you can just move them a little. [Applies ji posture to send Student 1 reeling backwards.]  Or, you can go internal. [Strikes watermelon held by Student 2, ruining lunchtime for everyone.]
Student 3: [Advances and bows.] Sifu, I was very impressed with the way you broke the watermelon.  Can you teach me?  Can you give me a lesson?
Steven Seagal: [Nods head and scowls, annoyed.  Throws Student 3 backwards into a wall.]  Now, collect your chi, and come at me.

Shadow Man, starring Steven Seagal
Student 3, you made the classic rookie mistake.  Never ask Steven Seagal to teach you a lesson!