Practiced properly, Tai Chi is among the most beneficial activities for improving one's health. Unfortunately, some students misunderstand one fundamental alignment principle, resulting in collapsed and contorted postures that are more likely to injure health than restore it. The principle: tucking the tailbone.
A straightened spine is required for most Tai Chi postures, and the proper way to accomplish this is explained the Tai Chi classics. The top end of the spine should be lifted, from the head; the bottom end of the spine should be relaxed and allowed to drop.
Over time, the combined forces of intentional expansion and natural contraction (supplied by gravity) will pull the spine taut, as if suspended in the air. The musculature will automatically adjust to support this straightening—unless it is prevented from doing so.
Tucking is a Dirty Word
Like an impatient farmer who pulls on his crops to speed their growth, some Tai Chi practitioners attempt to force their spine straight by rolling their coccyx to its forward extremity. Although this action does reduce the lumbar curve, it also precludes the benefits that accrue with natural spinal expansion.
Holding the tailbone forward introduces tension in the lower body, disrupts natural circulation, interferes with good alignment and reduces mobility. Tucking the tail bone is no substitute for releasing it; on the contrary, this "pushing the string" prevents the tailbone from dropping into its optimal position.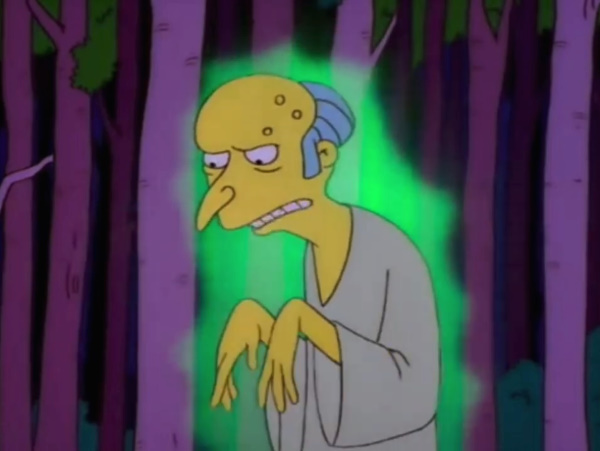 Mr. Burns' limp-wristed Tai Chi
Tim Cartmell jokingly refers to the feeble product of this habit as "Mr. Burns' Tai Chi". Other experts are less charitable. Pete Egoscue identifies this tucked position as the worst of all postural dysfunctions:
The other characteristics [of the tucked coccyx posture] are rounded, slumping shoulders and a head that juts forward until it seems like a miracle that the whole body doesn't topple over. You probably recognize what I am describing. It's the posture of despair and dejection, depression and defeat. We see it in photographs of prisoners of war, the homeless, drug addicts, and inmates on death row.
…and, regrettably, in certain schools of Taiji.
The health impact of this maladjusted posture may include: back, shoulder, and neck pain; poor balance; sore feet and ankles; hemorrhoids and varicose veins; shortness of breath, lack of energy, carpal tunnel, migraine headaches, TMJ pain in the jaw, anxiety attacks, dizziness, and constipation.
Conclusion: Don't Tuck Yourself
If tucking is the wrong approach to straightening the spine, then what is correct? Actually, it's quite simple: always keep your head up, never stick your butt out, and wait patiently for results.
References: