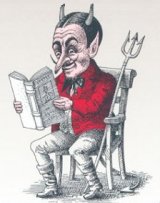 BLACK BELT – That uniform accessory most coveted by students of martial arts, who, upon receiving it, pretend it never held any interest at all.
PRACTICE – To endlessly repeat the same sequence of movements, always hoping for different results. (See also: INSANITY.)
KATA – An awful form of dance, often assumed to divulge some hidden meaning after sufficient PRACTICE.

KI – An invisible, inexplicable force that somehow renders TRADITIONAL martial artists superior to other sportsmen.
CHI – An alternate spelling of KI. (Note: CHI has been disproven by SCIENCE.)
REALITY – A large arena crowded with villains who operate unarmed and alone, thereby leaving themselves susceptible to techniques of SELF-DEFENSE.
SELF-DEFENSE – An elaborate system of strikes and holds, sometimes offered as a substitute for common sense and basic social skills.
DOJO – A small or unpopular MCDOJO.
MCDOJO – A DOJO more popular and successful than one's own.
EGO – 1) A primary cause of disagreement with superficial Eastern-tinged philosophies. 2) An impediment to RESPECT.
EVIDENCE – The outcome of a single televised martial sporting event.
SCIENCE – 1) An analysis of accumulated EVIDENCE. 2) A consensus view on some aspect of martial arts, unencumbered by any relevant experience.
DRILLS – Also known as KATA.
RESPECT – Obedience; fealty.
TRADITION – The explanation for a technique that has no other reasonable explanation.
MIXED MARTIAL ARTS – 1) A modern form of martial arts, carefully designed such that benefits accrue to fight promoters and other businessmen rather than to the practitioners themselves. 2) A style for which no TRADITIONS have yet been developed.
WARRIOR – A person who goes to war; sometimes confused with a martial artist.
WARRIOR-SCHOLAR – A martial artist who recites dubious and inconsequential tales of martial arts history to disinterested persons.
PEACEFUL WARRIOR – An oxymoron.
NUNCHAKU – An ancient farming implement; adapted and sent to Japanese martial artists by residents of 19th century Okinawa, to encourage suicide by massive head trauma.
Please submit your dictionary entries below.