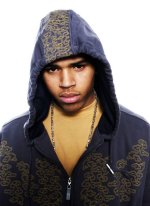 Chris Brown
Chris Brown must wish he was R. Kelly right now.
After reportedly beating up his celebrity girlfriend, Rihanna, R&B singer Brown has become the newest target of the Internet Vengeance League. Everybody wants in on the action, including LA Boxing president Anthony Geisler.
Geisler recently contacted Chris Brown's manager, inviting him to step into the boxing ring for a few rounds, and copied the invitation to a Facebook group ("I Want to Fight Chris Brown"). Personally, I find this obscene.