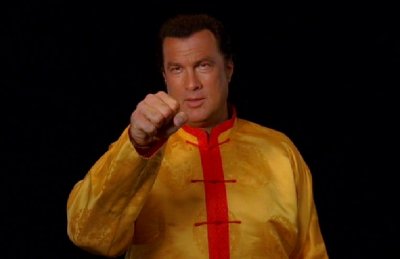 Where did Steven Seagal go wrong? His early movies—Hard to Kill, Out for Justice, Under Siege—reinvigorated the action genre, with their breathtaking displays of no-holds-barred Aikido.
His next two-dozen films weren't so well received, or so I hear. I didn't watch them myself.
It wasn't the thin plots or dull acting that eventually turned me off Steven Seagal's work; it was his characters, or rather his character. The names and the scenery changed, but never the personality. Seagal didn't play the hero, or even the anti-hero; he was just a smart-ass prick, a pretending pacifist who secretly hoped for violence. After so many encore performances, one wondered if it was really an act.
Thankfully, Steven Seagal's latest role shows that he is in on the joke.
"Hide Your Balls, Boys…"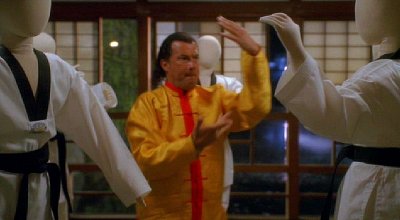 The obligatory training sequence
In The Onion Movie, Steven Seagal plays the Cock Puncher, master of an ancient technique that "strikes at the very core of a warrior's strength". And he plays it just like every other role, which works perfectly.

The Onion Movie preview (NSFW)
The only disappointment in Cock Puncher is its length.
If you've seen the movie trailer, you've literally seen half the scene. Why didn't the writers exploit the full potential of this hilarious concept? Don't they know that skit size matters?
As for the remaining ninety minutes of The Onion Movie…it has nothing in common with the eponymous satirical newspaper. Honestly, I was more impressed with the website than the film. The lineage chart is particularly interesting. Did you know that Cock Punching is related to Jeet Kune Do?
Postscript
"There is no such thing as an innocent joke."
~ attributed to Sigmund Freud
Why is the Cock Puncher skit so amusing, whereas the endless football-bounces-into-crotch "humor" of America's Funniest Home Videos falls flat? For me, the joke is not on the screen, it is off-camera…
The media portrays martial arts as exotic fantasy role-playing; consumers base their expectations on media imagery; entrepreneurs tailor their "traditional martial arts" offerings to meet the expectation. It is a vicious cycle wherein the authentic materials and practices are pushed aside.
Actually attacking an opponent's weak points in a direct and brutal fashion, is apparently seen as incongruous and inappropriate!
In other words, Cock Puncher is funny because it is supposed to be funny. It is ironically meta-funny.