Ebb and flow – rise and fall by Patrick Parker (Mokuren Dojo)
One of the main philosophical and strategic principles of the ancient Kito school, from which both aikido and judo took root, was the idea that ki (energy) is always rising and falling, ebbing and flowing and changing forms. This article at Mokuren Dojo describes this concept and gives a couple of hints for harmonizing with the ebb and flow of someone's energy.
Qigong Yiquan Review and Impressions by Jacob (Parapsychology Articles and Blog)
I've written before about my first qigong lesson. Nowadays, I still go the classes and am much more knowledgeable on this subject.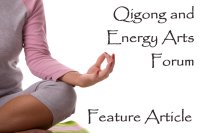 Nourishing the Liver by Joanne Hay (Nourished Magazine)
Cleansing the Liver looks very different when seen through the soft, clear eyes of Nourishment. How do we treat Liverish symptoms that pop up in Spring without falling for the old cleanse, purge, no pain no gain paradigm? Some of our Nourishing recommendations may surprise you.
EFT Is Bunkum? – Part 2 by Dr Martin W. Russell
EFT is a simple self-treatment technique that claims amazing results for both psychological and physical conditions. But what is really behind it? I suspect that the outcomes from EFT have NOTHING to do with Chi, or energy flow, or acupuncture meridian points.
Online Yoga Exercises for Healthy Weight Loss by Anmol Mehta (Mastery of Meditation, Kundalini Yoga and Zen)
Effective yoga exercises for safe healthy weight loss, fitness and energy.
Acne Acupuncture Is An Effective Natural Treatment by DaveX (Mr. Clear's Acne Reviews)
Acne acupuncture can be very effective. I have experienced this treatment myself and it worked very quickly and as a long lasting cure.
Reiki Healing – A Method Of Spiritual Healing And Self-improvement by The Alternative Medicine Zone
Reiki is a Japanese form of healing that is becoming more popular in the today's world. Most of the medical practitioners are recommending reiki healing as a parallel system of treatment.
Photo Credit:
Wolfgang Wedenig
Creating Intentions with Heart by Gia Combs-Ramirez (The Science of Energy Healing)
Get those intentions out of the disembodied mind and into the heart. Includes a meditation to guide you through the process.
Crystalline Consciousness Technique™ by Lexi Sundell (Energies of Creation)
CCT is a new cutting edge modality which is highly effective in propelling intentions into manifestation. Read about it here and find a link to try it for free.
What Is The Real Cause Of Colds? by Roger Haeske (Superbeing Secrets)
Do you want to know the real cause of colds and the flu? I can tell you right off the bat it isn't GERMS. That's an old fairy tale.
What Every Martial Artist Should Know About Chi and TCM by Martial Development
Are references to qi gong and Traditional Chinese Medicine a necessary component of martial arts instruction?
This concludes the first edition of Qigong and Energy Arts Forum. You may submit your article for the next edition, to be published in a few weeks' time.
Opinions expressed in this article series do not necessarily represent those of its publisher, and should not be taken as a substitute for professional medical advice.