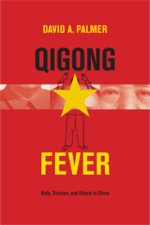 Excerpted from Qigong Fever: Body, Science, and Utopia in China by David A. Palmer
There were no officially sanctioned qigong activities in China until its rehabilitation in 1978, after the end of the Cultural Revolution. However, one woman, Guo Lin, an artist and cancer victim from Guangdong province who had cured herself by practicing qigong during the 1960s, was brave enough to teach other cancer patients in the parks of Beijing as early as 1970. Her 'New Qigong Therapy' inaugurated a new, collective form of qigong teaching and practice that would later be adopted by most qigong masters. Guo Lin can thus be said to have triggered the qigong wave of the 1980s.
Born near Zhongshan, Guangdong in 1909, Guo Lin was trained as a young girl in traditional body technologies by her paternal grandfather, a Taoist in Macau, where her family had fled following the 1911 revolution. Later, as a student of landscape painting, she visited several holy mountains; the breathing technique she used when climbing the steep slopes would become the basis for her future qigong method.
In 1949 Guo Lin was hit by uterine cancer, which was treated by hysterectomy. The cancer recurred in 1959 while she was teaching at the new Beijing Painting Academy. Guo Lin remembered the techniques that she had learned in her youth, and decided to practice them to treat her cancer.
Between 1971 and 1977 Guo Lin was interrogated seven times…in spite of the harassment, the number of people who came to practice with her grew.
She took up the Five Animals Frolic, and delved into books on qigong theory, Chinese and Western medicine, physiology, pathology, acupuncture and meridian theory. Her cancer was cured after ten years of practice and experimenting. Guo Lin synthesized her experience in the form of a qigong method for treating cancer and chronic illness, based on the new technique of 'wind breathing', which modified certain aspects of traditional body technologies and Liu Guizhen's method.
She began teaching her method to people suffering from cancer and chronic illnesses in 1970. Her first student, a worker who suffered from serious heart disease, was cured after practicing her qigong. Her second student, a factory worker, was cured of his stomach cancer after a year of assiduous practice under Guo Lin's guidance.
Encouraged by these results and by the growing number of people who wanted to learn her qigong, she began to teach her method publicly in Dongdan Park in 1971. The word spread; the number of practitioners increased; many recovered their health. She organized the learners into practice groups and taught them the theory and practice of her 'New Qigong Therapy', teaching different techniques to different patients depending on their condition.
Crackdown and Concession
Accused of fooling people and of engaging in superstitious practices, Guo Lin was expelled from Dongdan Park. Two of her assistant trainers were arrested and imprisoned for twenty days, her home was searched, and her qigong material confiscated.
Between 1971 and 1977 Guo Lin was interrogated seven times by the Public Security Bureau. In spite of the harassment, the number of people who came practice with her grew, until she was able to train coaches to lead practice groups in other parks, and an informal organization of practitioners was created to study and publicize her method. Interest was so great that she abandoned a plan to emigrate to the United States, where her daughter was living.
Guo Lin began to enjoy the support of Party cadres who had benefited from her method. Gao Wenshan, a retired Navy officer, became an ardent supporter of Guo Lin's qigong. Using his official car, he took Guo Lin and her assistants to several work units, looking for a permanent base for teaching and practice. Finally, in 1977, two officials at Beijing Normal University took the risk of offering the campus as a center for Guo Lin's activities.
Mao had died and the Cultural Revolution had ended. Sensing the new political climate, Guo Lin submitted a report to the health ministry, which, summarizing seven years of experience teaching qigong, claimed that it was a cure for cancer. She began to organize regular, formal courses at Beijing Normal University. 'Experience sharing assemblies' were also held, at which practitioners could share and summarize the benefits of the method. Guo Lin was invited to lecture at dozens of universities, factories and official units. Thousands of people began to learn her qigong method in parks and public spaces around the country.
A New Era for Qigong
The Cultural Revolution had thus failed to eradicate qigong; most of the masters of traditional body technologies has simply continued to transmit their techniques secretly. And Guo Lin, who didn't fear teaching in the open, brought a key innovation to qigong: by inaugurating group practice in parks, she freed qigong from the medical institutions.
A new style of qigong was born, heavily marketed by the mass culture of the Mao era: qigong was no longer confined to the institutions of the Party elite, but became a grassroots popular movement. Instead of traditional masters giving secret initiations or professional medical workers providing one-on-one clinical instruction, amateur enthusiasts led free collective practice sessions in public spaces. By the end of the 1970s, it was not rare to see more than a dozen different qigong methods being practiced in the same park on a given morning.