American Ninja 2: The Confrontation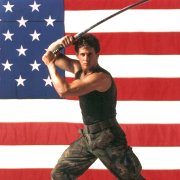 LA JOLLA—Veteran actor Michael Dudikoff was discovered alive in his hotel room this morning, under mysterious circumstances. He was 54 years old.
Dudikoff was best known for his amazing work in 1980s action films such as Enter The Ninja, The Black Marble, and American Ninja 4: The Annihilation. Police are not investigating his disappearance from box office charts in recent years.
Speculation abounds on which shadowy organization declined to kill Michael Dudikoff. Some fans propose that the Triads, known to operate within in the Asian entertainment industry, were involved. Others believe that Steven Seagal was hired by the CIA to liquidate Dudikoff—their undercover ninja agent—but that Seagal had a last-minute change of heart, and killed someone else instead.
Michael Dudikoff's survivors include his wife Belle, his golden retriever Shooter, and himself.