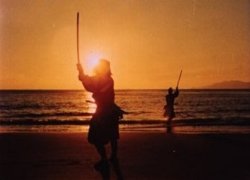 Musashi duels on the beach
Samurai Trilogy: Musashi Miyamoto (3 films)
Based on a true story, Samurai chronicles the transformation of a violent, headstrong youth (played by Toshiro Mifune) into one of history's greatest swordsmen. Samurai won the Academy Award for best foreign film in 1955, and is regarded by many as Japan's own Gone With the Wind.
Samurai I: Musashi Miyamoto
Samurai II: Duel at Ichijoji Temple
Samurai III: Duel at Ganryu Island
Lone Wolf and Cub (6 films)
The victim of a vicious political plot, Ogami Itto loses his wife and his title as official executioner for the Shogun. After discovering the identity of his assailants—the evil Yagyu clan—Itto vows not to rest until he has personally escorted them to the gates of Hell. He travels Japan as a freelance assassin, tutoring his infant son Daigoro in the way of death, and preparing for a final showdown with Yagyu lord Retsudo.
Lone Wolf and Cub: Sword of Vengeance
Lone Wolf and Cub: Baby Cart at the River Styx
Lone Wolf and Cub: Baby Cart to Hades
Lone Wolf and Cub: Baby Cart in Peril
Lone Wolf and Cub: Baby Cart in the Land of Demons
Lone Wolf and Cub: White Heaven in Hell

Sword of Vengeance (1972)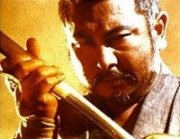 Zatoichi (26 films!)
As a blind, homeless gambler, Ichi endures much scorn from his 19th-century countrymen. But when ridicule is followed by injustice, this happy-go-lucky vagabond shows his dangerous alter ego: master of iaijutsu, and invincible swordfighter.
The Tale of Zatoichi
The Tale of Zatoichi Continues
New Tale of Zatoichi
Zatoichi The Fugitive
Zatoichi On The Road
Zatoichi and the Chest of Gold
Zatoichi's Flashing Sword
Fight, Zatoichi, Fight
Adventures of Zatoichi
Zatoichi's Revenge
Zatoichi and the Doomed Man
Zatoichi and the Chess Expert
Zatoichi's Vengeance
Zatoichi's Pilgrimage
Zatoichi's Cane Sword
Zatoichi the Outlaw
Zatoichi Challenged
Zatoichi and the Fugitives
Samaritan Zatoichi
Zatoichi Meets Yojimbo
Zatoichi at the Fire Festival
Zatoichi Meets the One Armed Swordsman
Zatoichi at Large
Zatoichi in Desperation
Zatoichi's Conspiracy
Shintaro Katsu's Zatoichi

Zatoichi's Flashing Sword trailer
How many of these movies have you seen, and which were your favorites?