This is a continuation of Give Thanks to Your Blogging Inspirations.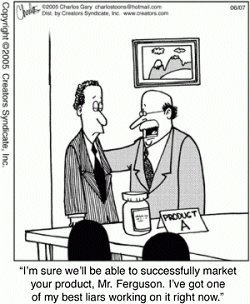 From the All Marketers Are Liars Blog
Until recently, I had no interest in marketing.  Like so many other scientists and engineers, I considered marketing a necessary evil, unworthy of my own efforts. 
Then I spent a few hundred hours of my spare time on an independent software project: the SuperBot offline browser.  After having spent so many evenings and weekends working through various technical issues on this project, I wanted to ensure SuperBot receives all the attention and use it deserves.  I reluctantly acknowledged the need for marketing, and resolved to learn the basics of the craft.
Article Marketing for Dummies (Like Me)
I had a good idea where to start my marketing education.  Fellow participants in the Business of Software forums recommended The InfoGuru Marketing Manual by Robert Middleton. 
Reading this manual completely changed my opinion of the marketing game.  Now, I see that marketing is more than sleazy manipulation; it is fundamentally about helping people understand your solution to their problems.  To quote the manual,
Remember that the people you address are selfish, as we all are.  They care nothing about your interest or your profit.  They seek service for themselves.  Ignoring this fact is a common mistake and a costly mistake in advertising.  Ads say in effect, "Buy my brand.  Give me the trade you give to others.  Let me have the money."
This is not a popular appeal.
The best ads are based entirely on service.  They offer wanted information.  They cite advantages to others.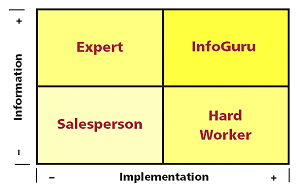 Robert Middleton is a pioneer of what is now known as article marketing.  I recommend his book to anyone who is interested in improving their marketing and communication skills.  But I digress…
Martial Arts Seminars For Cheapskates (Like Me)
Last spring, I discovered a number of interesting seminar opportunities in the US and abroad.  I wanted to attend them all, but at the same time, I didn't want to spend thousands of dollars on airfare, hotels, rental cars and other incidental fees. As a long-time entrepreneur, I knew that business expenses could be deducted from my income for tax purposes, and that this would result in a significant savings on seminar fees.  Unfortunately, martial arts was only my hobby, and not my business.
So I was thinking: if I were to start a martial arts business, what could it be? 
Should I become a professional instructor?
  No, that is too much responsibility to assume solely for a tax write-off.  Besides, the
Seattle martial arts community
already has too many Masters.
Cage fighter?  No, I need something with lower risk.  If I injure my typing fingers, I would be unable to perform my day job.
Martial arts author?  That sounds interesting, but I don't know where to start.  Having participated on martial arts forums and mailing lists for many years, I know that I have some valuable insights to share—but could they fill an entire book?
A Series of Fortunate Events
Suddenly, all the pieces fell into place…
Martial arts study is extraordinarily beneficial, and completely relevant to modern life.
The story of martial arts as personal development discipline has never been written—at least not to my satisfaction.
I can tell this story, by leveraging a combination of personal experience and basic marketing education principles. 
Blogging is a viable alternative to conventional freelance writing (i.e. books and magazines), and can be profitable if you do it well.
My background in software engineering and web development provides the technical foundation for a successful blog.  My passion for martial arts will provide the inspiration.
Welcome to the Martial Development Blog.