Recounted by psychologist Robert Cialdini:
One night at an introductory lecture given by the Transcendental Meditation (TM) program, I witnessed a nice illustration of how people will hide inside the walls of consistency to protect themselves from the troublesome consequences of thought.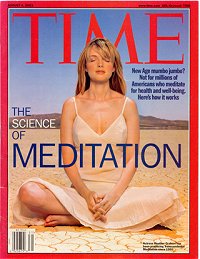 The lecture itself was presided over by two earnest young men and was designed to recruit new members into the program. The program claimed it could teach a unique brand of meditation that would allow us to achieve all manner of desirable things, ranging from simple inner peace to the more spectacular abilities—to fly and pass through walls—at the program's advanced (and more expensive) stages.
I had decided to attend the meeting to observe the kind of compliance tactics used in recruitment lectures of this sort, and had brought along an interested friend, a university professor whose areas of specialization were statistics and symbolic logic. As the meeting progressed and the lecturers explained the theory behind TM, I noticed my logician friend become increasingly restless.
Looking more and more pained and shifting about constantly in his seat, he was finally unable to resist. When the leaders called for questions at the completion of the lecture, he raised his hand and gently but surely demolished the presentation we had just heard. In less than two minutes, he pointed out precisely where and why the lecturers' complex argument was contradictory, illogical, and unsupportable.