In 2006, I saw a few episodes of MTV's reality TV show Final Fu. At the time, I thought the performers displayed physical competence, but not greatness, and I found the level of demonstration and competition disappointing. Head judge Ernie Reyes Jr. praised his players' abilities to throw a variety of high kicks.
When I subsequently watched auditions for Fox's televised dance competition, So You Think You Can Dance, I was both delighted and appalled by the disparity in standards. Somehow, I had expected martial austerities to result in a deeper achievement, when compared to the frivolous motivations of dance. But in every city, the top entrants, and even the middling dancers seemed to surpass Final Fu's competitors in coordination, grace, and overall skill.
On at least one occasion, a masterful aerial kicker was rejected outright, for turning in a one-note performance; as head judge Nigel Lythgoe put it, "It takes a lot more than high kicks to be a dancer."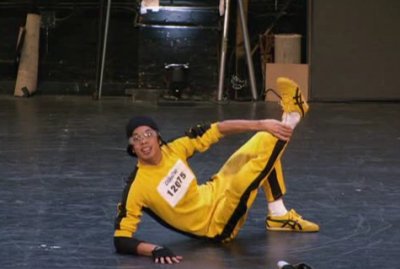 Dancing is not a martial art, but they have much in common. Proficiency in either demands a body that can speak clearly—whether to convey profound truths, or exquisite lies—because indistinct muttering is no basis for artistic expression. In both arts, it pays to keep a close eye on your partner's movements. (Other similarities, readers?)
Fellow martial artists, here is your homework assignment: watch at least one episode of So You Think You Can Dance…and reflect on how the judges might critique your own performance.

Nate, Kwoon's One-Man Dance Team

Phillip Chbeeb
So You Think You Can Dance – Season 4