A Fight to Become the Top Dog
Final Fu, a martial-arts themed reality show, made its debut in July. According to the producers' description:
Final Fu is an unprecedented series that will pit the best practitioners of their respective styles against one another in an arduous competition of challenges and stand-up, tournament point fighting to determine which art is capable of producing the definitive martial arts champion.
Does this show deliver on its promise? Is it informative or entertaining? Will Final Fu have a positive or a negative impact on the public perception of martial arts?
Final Fu is not K-1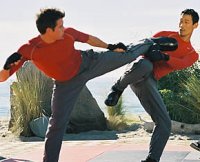 The format of Final Fu more closely resembles its peers in the reality genre than an authentic martial arts tournament. Winners are determined not only by match results, but also by their performance in various punch-kick obstacle courses. Whether or not these courses have any relevance to martial arts, they are somewhat entertaining when viewed on their own terms.
The matches are tame, even by point-fighting standards. Blows to the head and use of excessive force are against the rules. A light tap earns the same number of points as a powerful punch, and tossing your opponent down or out earns no points at all. The judge immediately interrupts anything resembling a clinch.
Presumably, these rules are in place to produce exciting fights for the uneducated viewers in the MTV demographic. They favor high kicks and flailing punches that few trained fighters would ever use for practical self-defense. These rules may decrease the risk of serious injury, but they also make the matches predictable and boring.
Warrior Ethics
Final Fu is a lousy showcase for the real fighting skills imparted by traditional martial art practice. The display of self-discipline and character, supposedly nurtured by long and arduous training, is also unimpressive.
Competitors have launched illegal and unsportsmanlike attacks on their opponents, through clumsiness or an uncontrollable urge to win. They have cried and berated themselves over minor losses. And they have shown a mixture of fear and impatience in attacking, that one might expect from martial art novices.
A Good Start, Needs Improvement
Overall, I enjoyed the show. Final Fu does not fully illustrate the power of martial arts as a tool for personal development; nevertheless, it may inspire viewers to investigate further.
I hope that, if Final Fu returns for a second season, the fight rules will be adjusted to allow a greater variety of participants, skills and techniques.
What do you think?