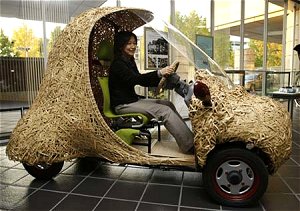 Bamboo electric car
Environmentally friendly, or death trap?
Looking at ridiculous news reports of bamboo laptop computers and recycled toilet paper, it would be easy to conclude that the so-called "green revolution" has gone too far.
I think it hasn't gone far enough. While many embrace the concept on a shallow and symbolic level, fewer people are asking themselves difficult questions about sustainability.
What does it mean to be green? Surely there is more to it than purchasing a slightly different set of consumer products. In the days before the great greenwashing, we were given simple instructions, Reduce, Reuse, Recycle, to be used in that order. As originally intended, "green" is an attitude and a set of behaviors—not just a list of organic ingredients.
The person with a genuine concern for sustainability or social ethics will reflect that concern in their every action, and the most basic human action is movement. Philosophical theories, reasoned arguments, and ex post facto rationalizations are all secondary; if you do not exhibit ethical movement, then you are not an ethical person.
Wasted effort is unethical. Excess physical tension is unsustainable. Inefficient movement is the opposite of green movement.
In public, Kung Fu teachers often claim that their art are not for attacking others. That is true, but Kung Fu is not about personal self-defense either. The basic meaning of Kung Fu is skillful movement.
My martial art is green. How about yours?