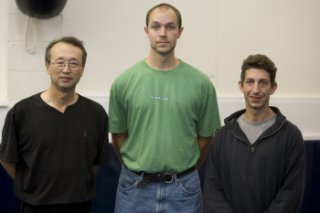 Hu Xi Lin, Mike Martello and myself
I first met Mike Martello in 2007, when he gave a local seminar hosted by Jake Burroughs. Although we only spent a few hours together, he impressed me as few other Kungfu instructors have.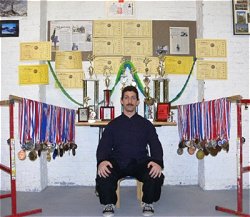 Mike's skills in Tanglang, Shuai Jiao and other Chinese martial arts styles were formidable–he earned more than 100 medals, trophies and certificates to prove it. While such recognition might amplify the egomaniacal tendencies of some masters, they seemed to have the opposite effect on Mike.
With his unpretentious style of teaching, he betrayed no interest in recruiting a cadre of followers, or threatening any potential rivals. Instead, he radiated a genuine and pervasive interest in sharing a beautiful, powerful art with good friends.
I was looking forward to visiting Mike again this year. It will not happen.
Mike Martello died yesterday, at the age of 42 years, while teaching a private lesson. His presence, however tragically brief, was a benefit to all who knew him.
At this time, a large collection of his videos are still available for viewing on YouTube. A recent interview was published at Mokuren Dojo.

Mike Martello in Seattle, 2008 (part 1 of 4)