In theory, the Seattle Martial Arts Club has no teacher. Members meet to practice martial arts drills and exercises of their choosing, under their own direction, for the benefit of all involved.
In practice, no two practice partners are ever equal, and the partner in control usually sets the pace and the tone of a practice session—if not intentionally, then haphazardly.
As I am often the senior Taiji practitioner in attendance—or in other words, the unpaid and under-appreciated Taiji instructor in attendance—it seems appropriate to briefly discuss my personal guidelines and preferences for tui shou (pushing hands) practice.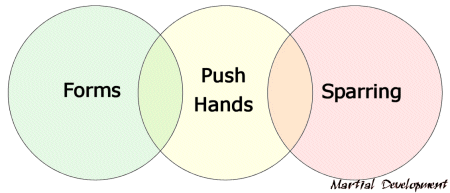 Tui shou is about using what you have to get what you want. What you have, as a dedicated practitioner of Taiji solo forms, is a highly cultivated set of physical abilities (e.g. the ability to rotate the torso while standing balanced on one leg). What you want, as a martial artist, is the capacity to win fights, or at least avoid losing them.
The practice of tui shou is the application of Taiji body skills against light or moderate resistance. These skills, as encoded in the forms, include striking an opponent, throwing them to the ground, and dislocating or breaking their joints. From a tight self-defense perspective, Tai Chi's famous relaxation and sensitivity benefits are only the means to these ends.
Ideally, tui shou provides an opportunity to explore the full Taiji suite of attacks and defenses, principles and techniques. In practical terms, this means moving in and out of clinch range while maintaining subtle contact, and seizing opportunities to attack while denying those same opportunities to a practice partner. Thereby, it presents a manageable subset of the real problems that define a real fight.
The worst tui shou, in contrast, offers elegant solutions to imaginary problems (e.g. wrist grabs), and fails to bridge the gap between self-cultivation and combat. Illustrating the point, see this video by Sifu Wei-Chung Lin of the Chinese Taoist Martial Arts Association.
To be perfectly clear, this video does not depict its creator's attempt at Taiji pushing hands practice. I will critique as if it did, only because I have met a few people who do like to perform tui shou in exactly this manner. The demonstration shows how a fixed step push hands exercise can simultaneously be impressive and ridiculous.
The critical issue is not whether any kind of skill is employed, or even whether that skill produces the desired outcome, in this limited engagement, of uprooting the opponent. Winning is not enough; it is necessary but insufficient. The critical issue is how that skill is related to the solo Taiji form on one hand, and to free fighting on the other. Without that synergy, push hands is just a baroque and Orientalist strain of MMA.
The artificial restrictions of fixed step push hands are beneficial–when we recognize them as such, and consequently avoid reliance on strategies and techniques that would fail outside of these restrictions.
Push hands should not be regarded as a separate course, for that minority of Taiji students who enjoy fighting. On the contrary, tuishou provides a vantage point, from where we learn whether our solo form practice is actually correct. Afterwards, our success or failure in sparring will show whether our conception and execution of tuishou is correct. In my opinion, this is the most, and the least anyone should expect from the practice.